It's that time of year (Ho! Ho! Ho!) and I am excited to incorporate some holiday cheer into my classroom. I love decorating my classroom tree and playing soft Christmas music in the background during the month of December. I also love adding fun holiday twists on the topics that I normally teach during the holiday season. Today, on the blog, I'm sharing 8 Holiday Activities to use in your Forensics Classroom.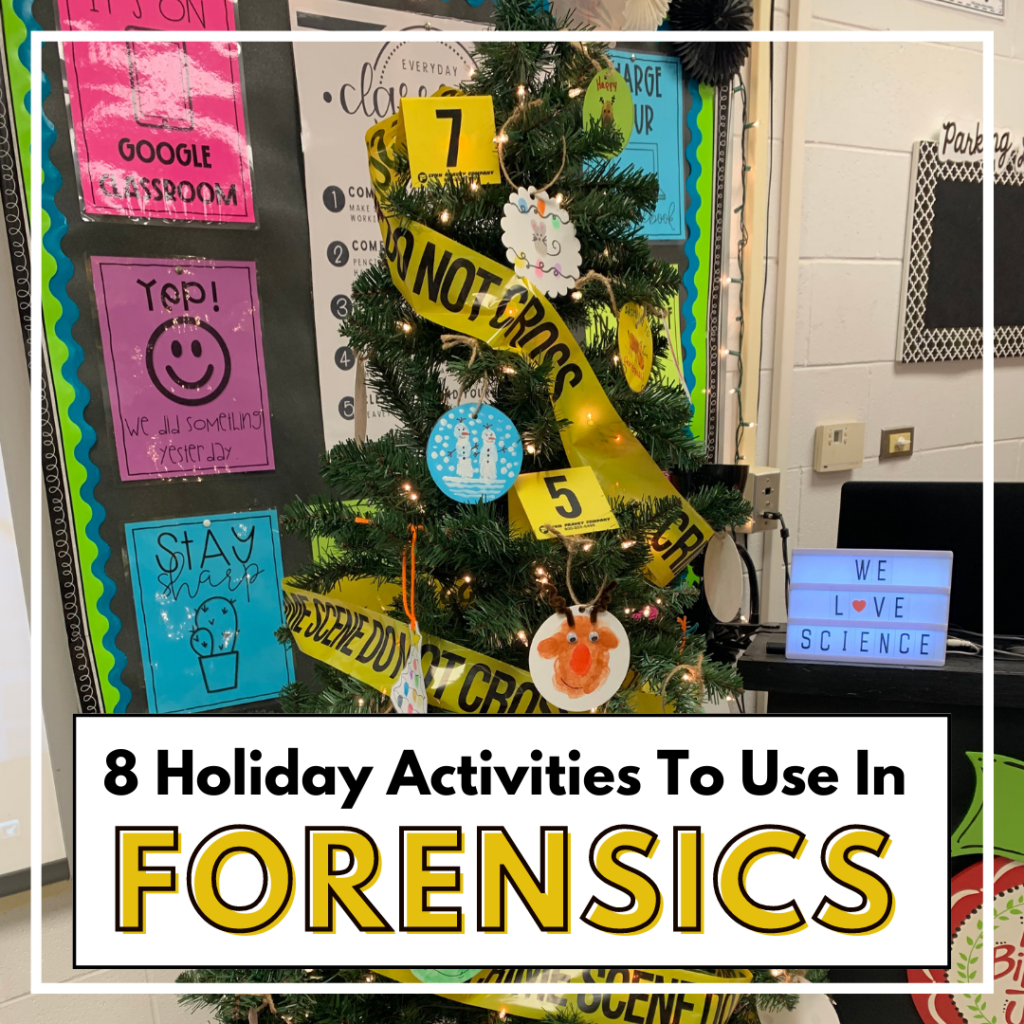 🎄Design an Ugly Sweater about a Forensics Topic
Need a fun way to summarize a forensics topic? You can download this FREE ugly Christmas sweater printable from Education.com. You could use this as an "exit ticket" after teaching a lesson or have your students choose their own topic in which to showcase. Here are a few of my favorites that my students have created.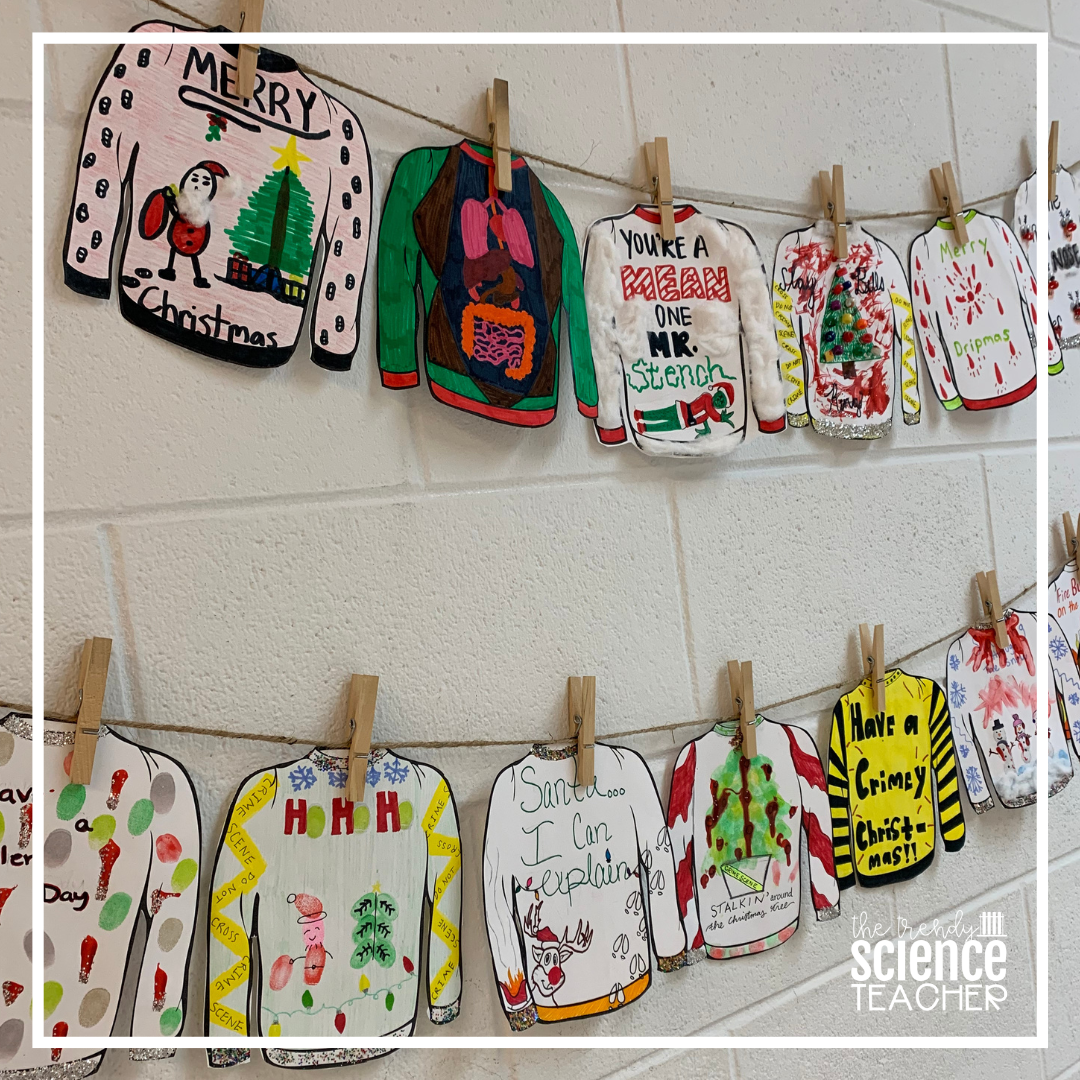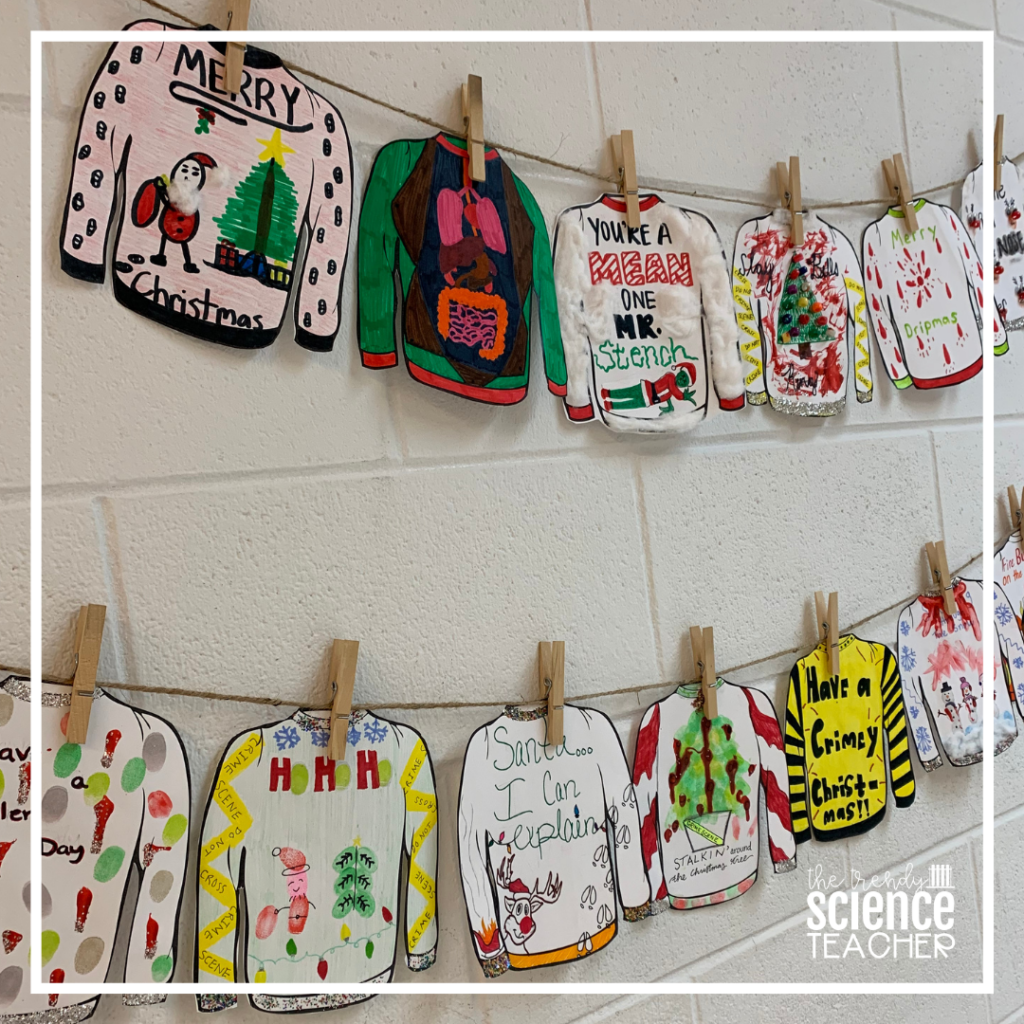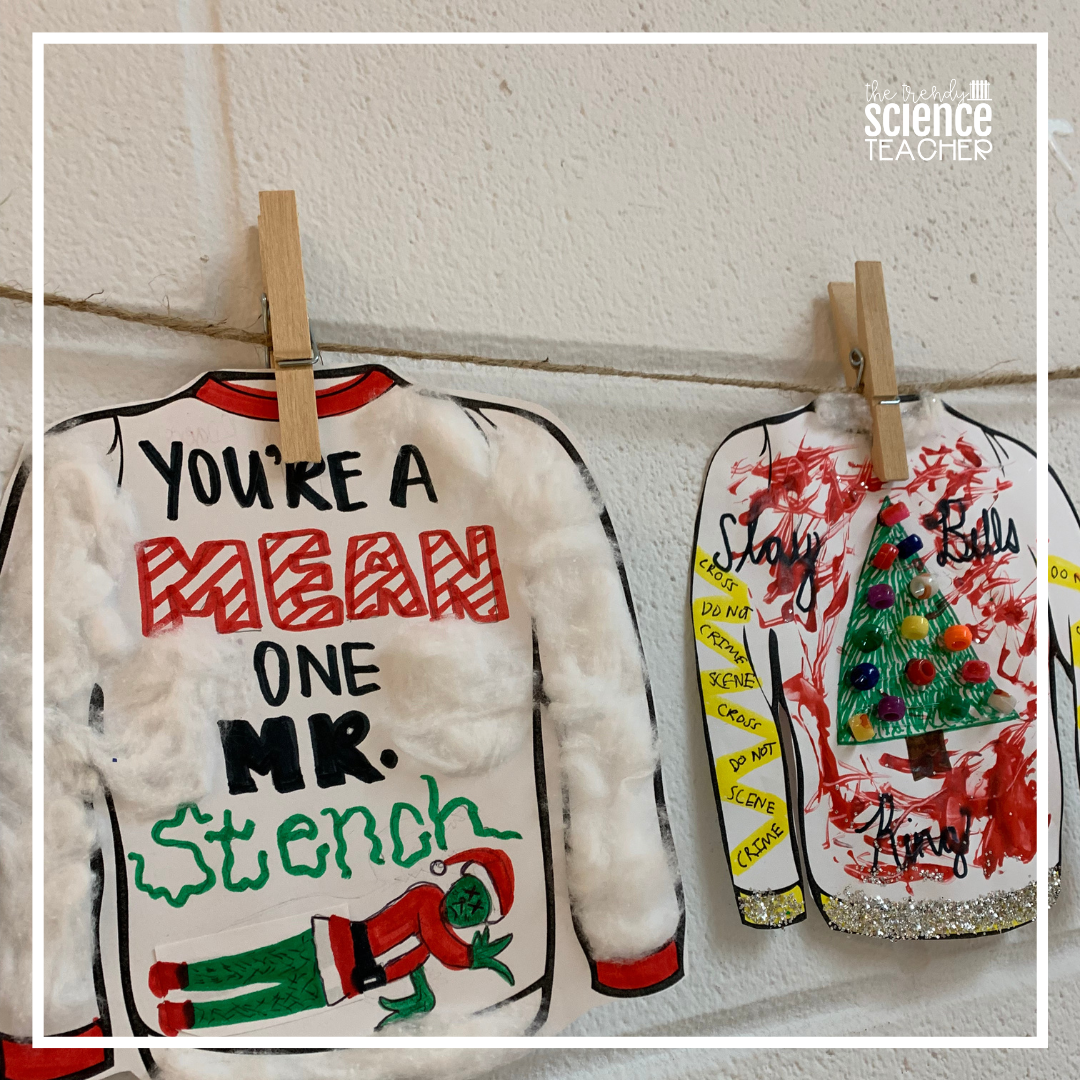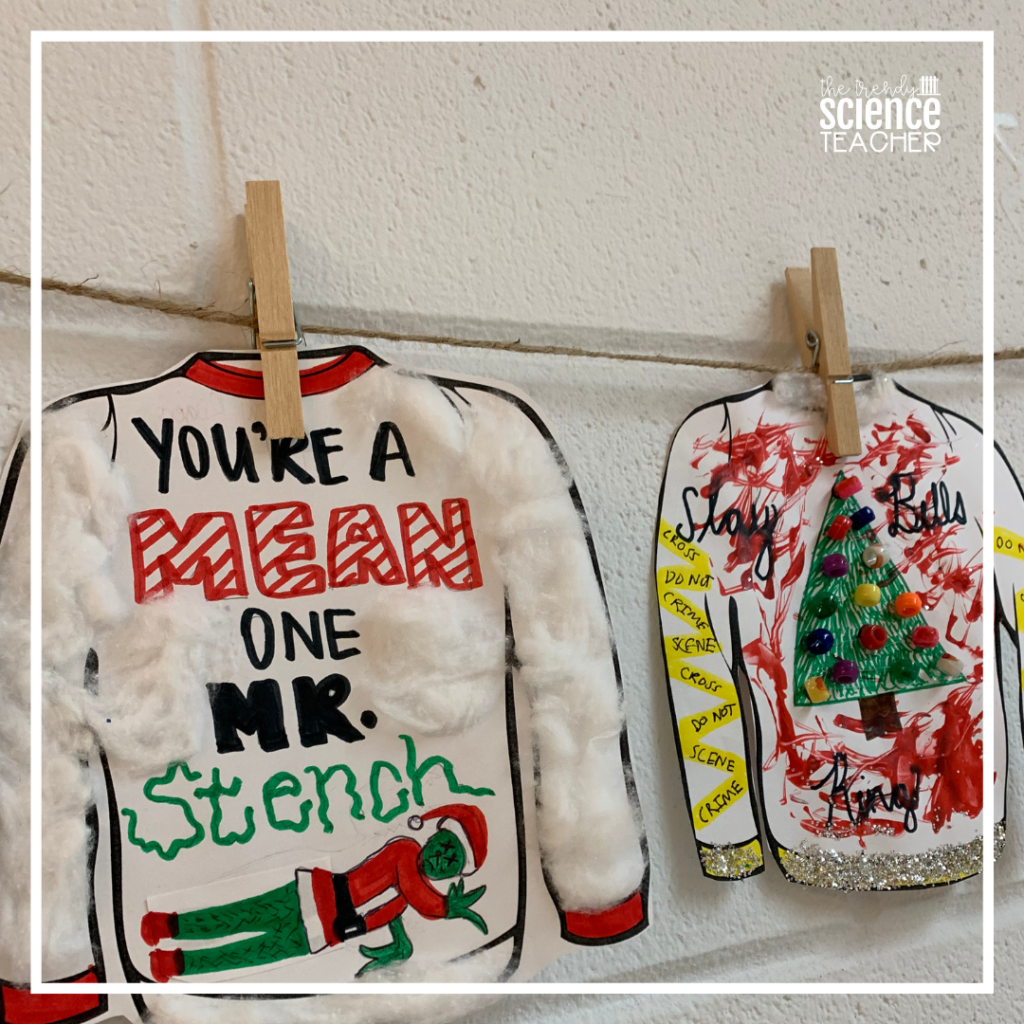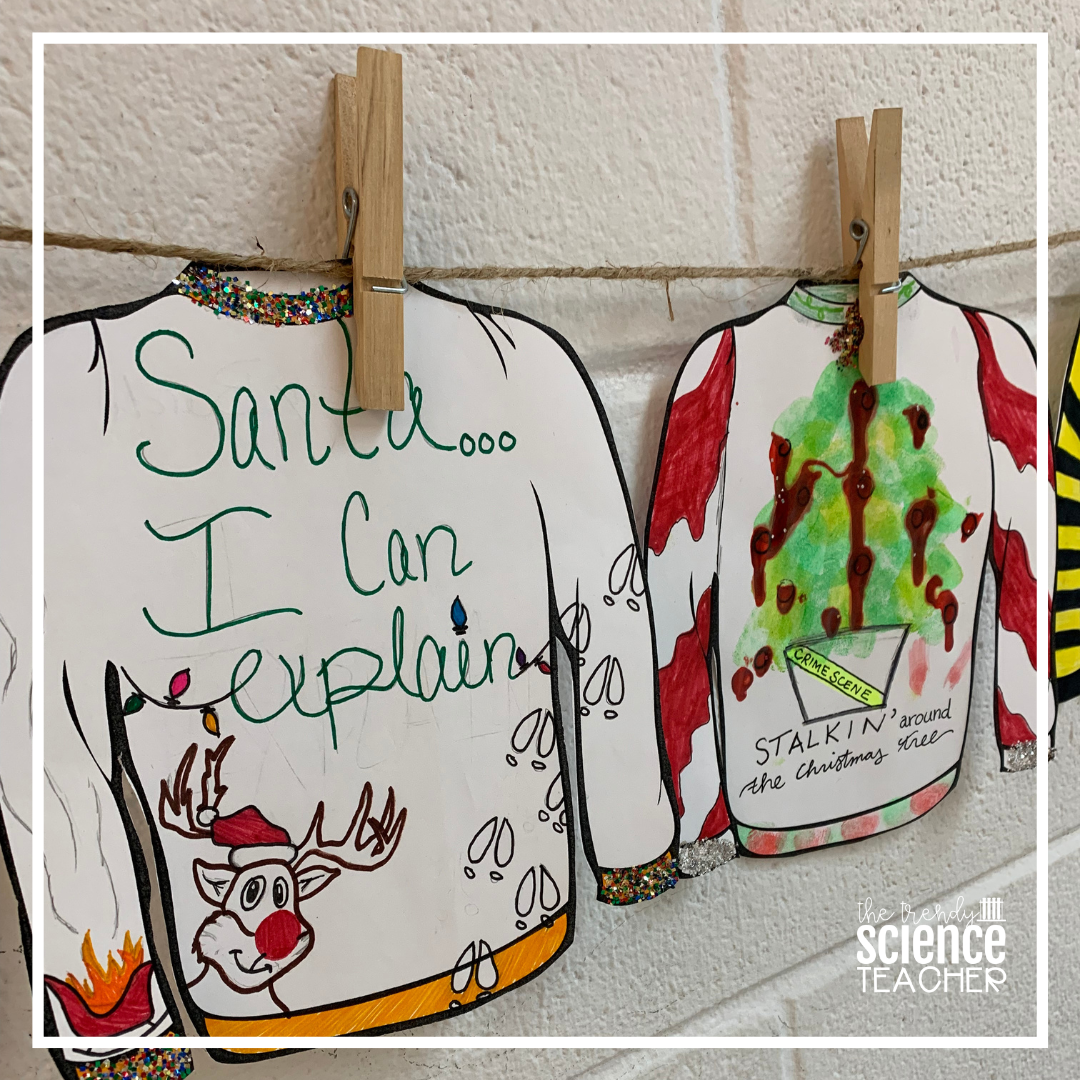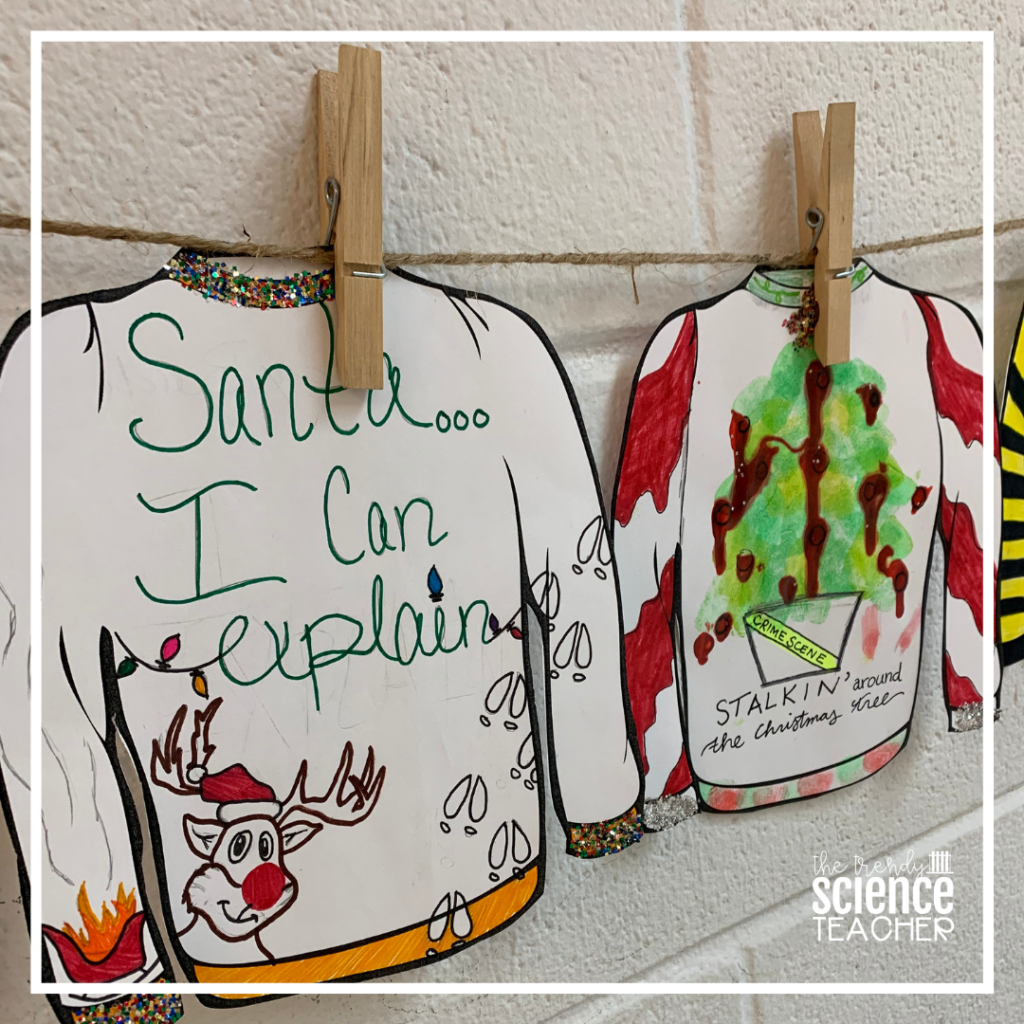 🎄Christmas Crime Scene Project
The Christmas Crime Scene Project is a lot of fun. Students must create a 3-dimensional holiday-themed crime scene, complete with a story line and 6-8 pieces of evidence. For this project, I group my students (3-4 in a group) and provide them with written guidelines and a rubric. They have 3 class days to plan, design, and build their project. Many of my students bring in items from home, but I also make sure that I supply them with glue, scissors, cardstock, boxes, and other basic crafting materials.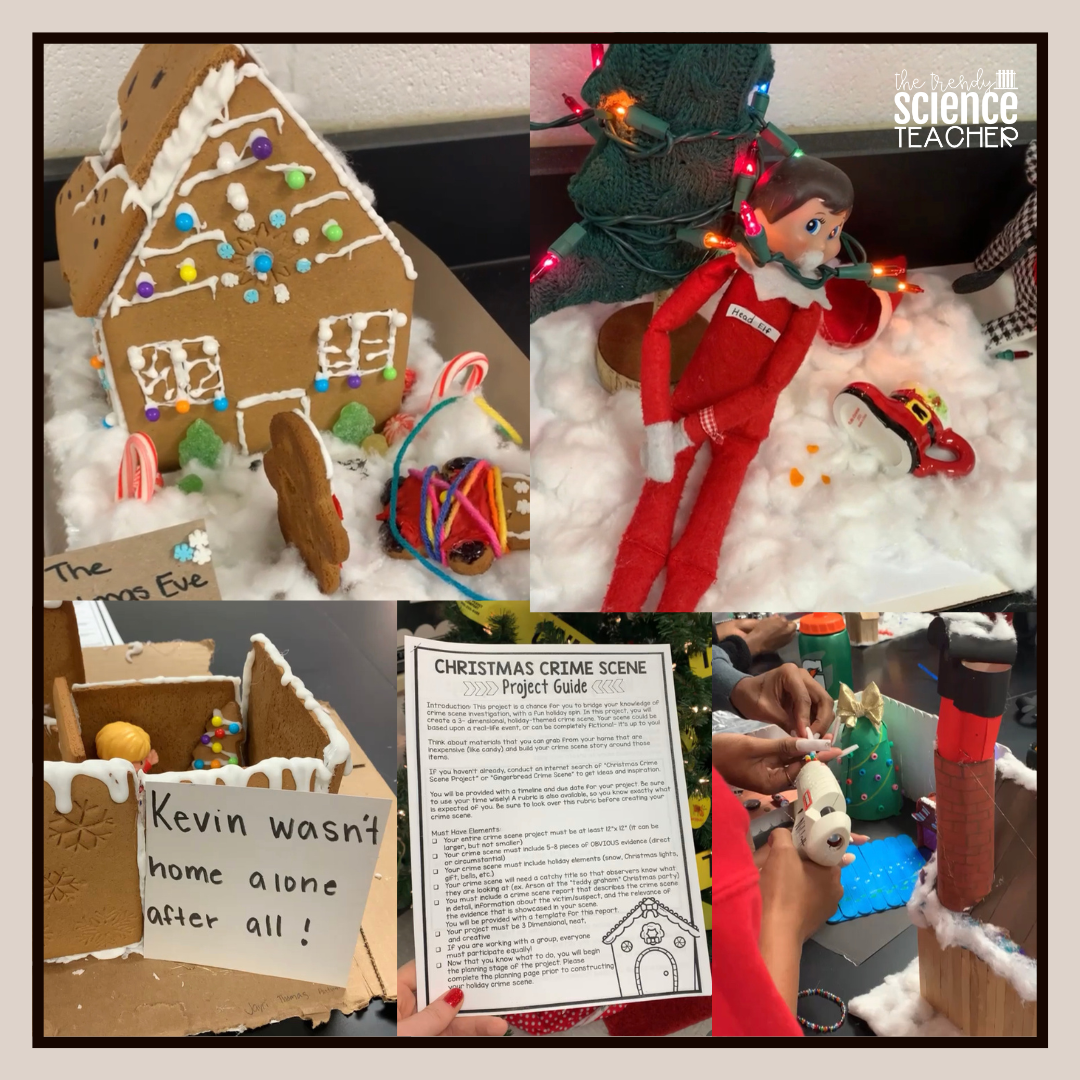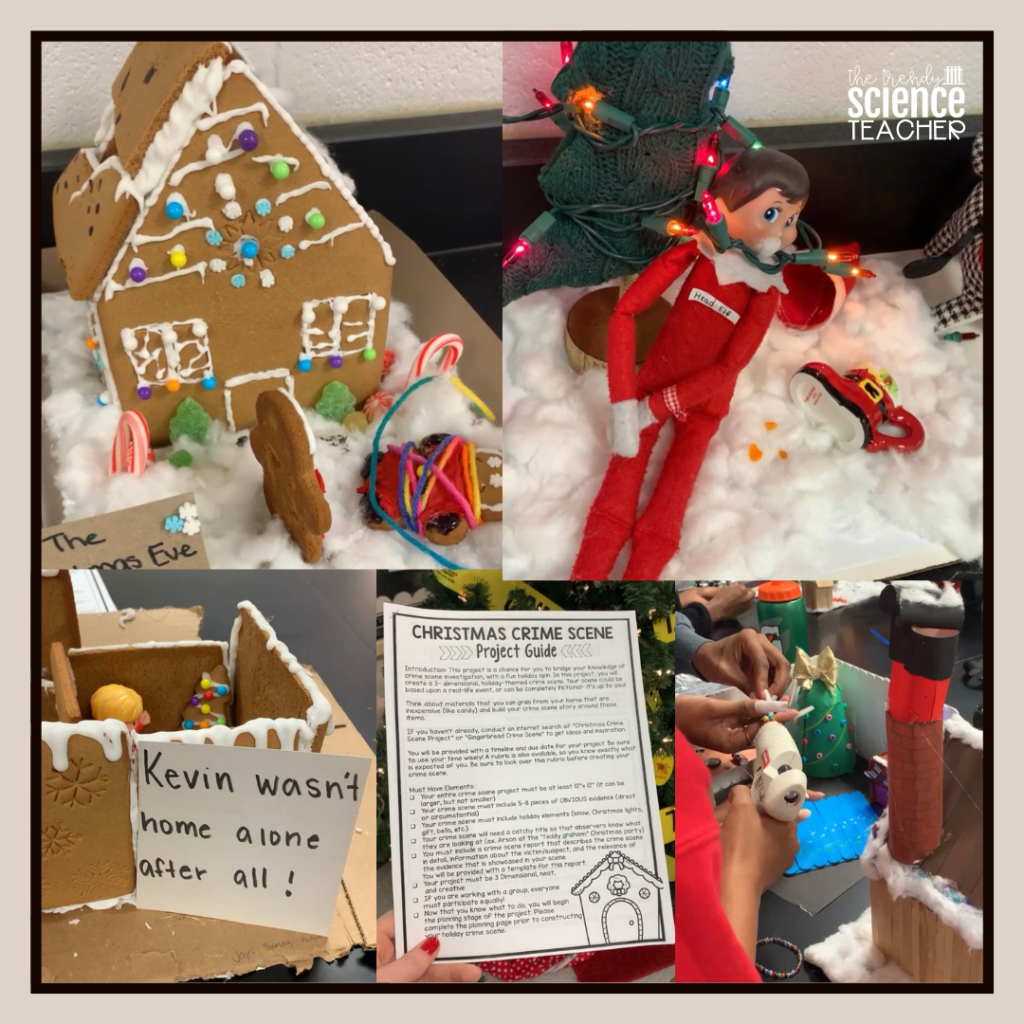 On the fourth day, the class does a gallery walk where we travel to each project and listen to the other groups present their storylines. This also gives me the opportunity to grade the projects. To grab this project for your classroom click HERE.
🎄Fingerprint Christmas Tree Ornaments
I enjoy decorating my classroom Christmas tree each year. To make it REALLY special, I have my students decorate an ornament for the tree. This year, we were working through our fingerprint unit, so I had my students create the ornaments using their fingerprints.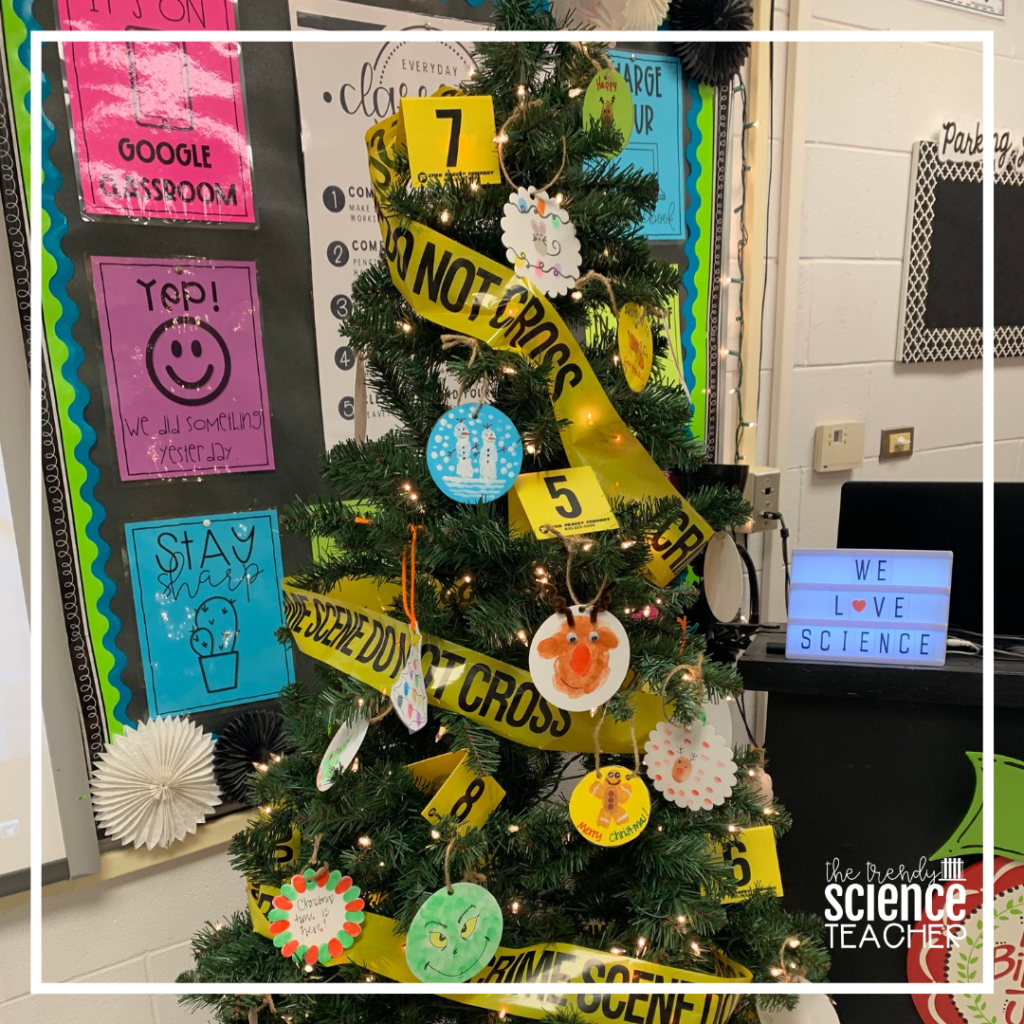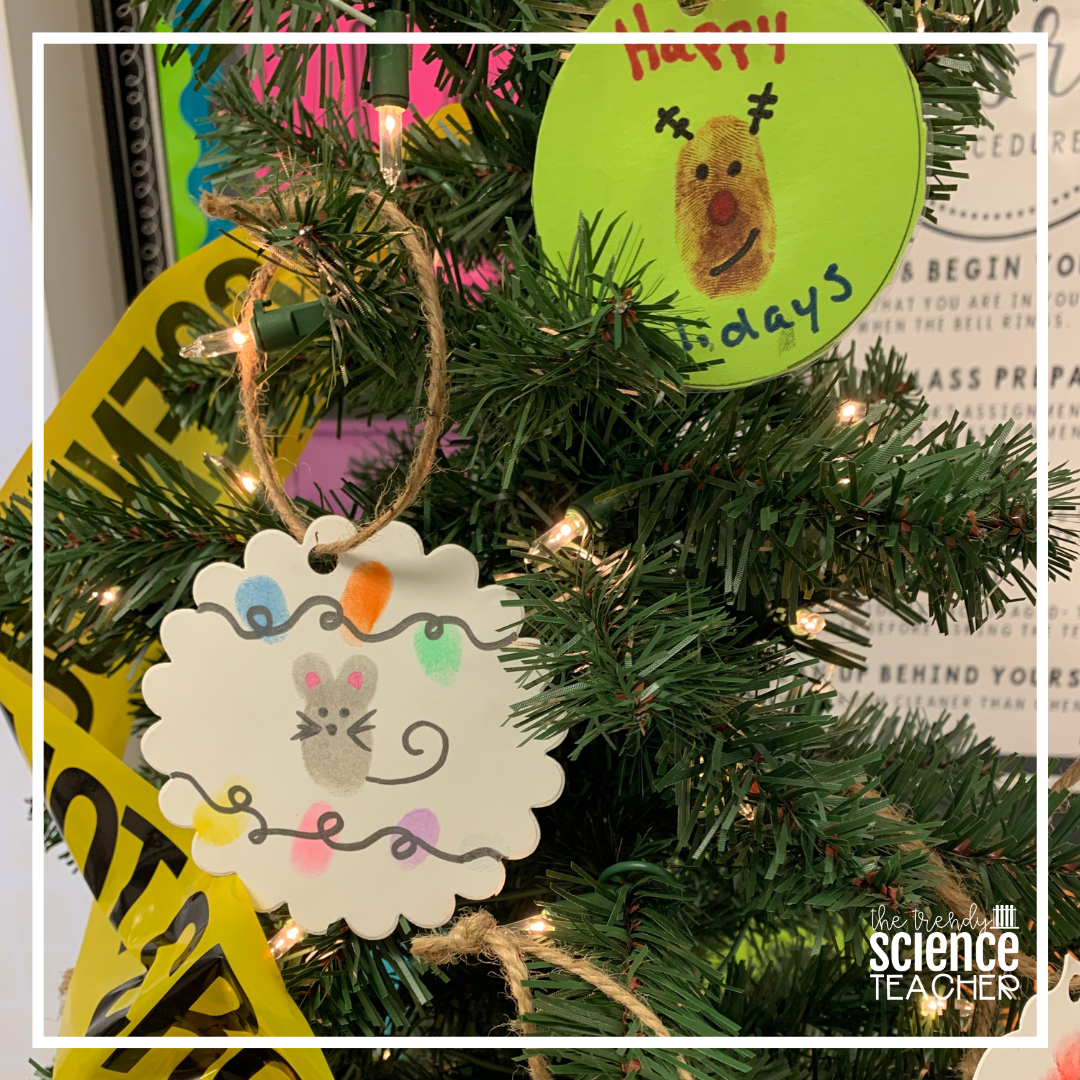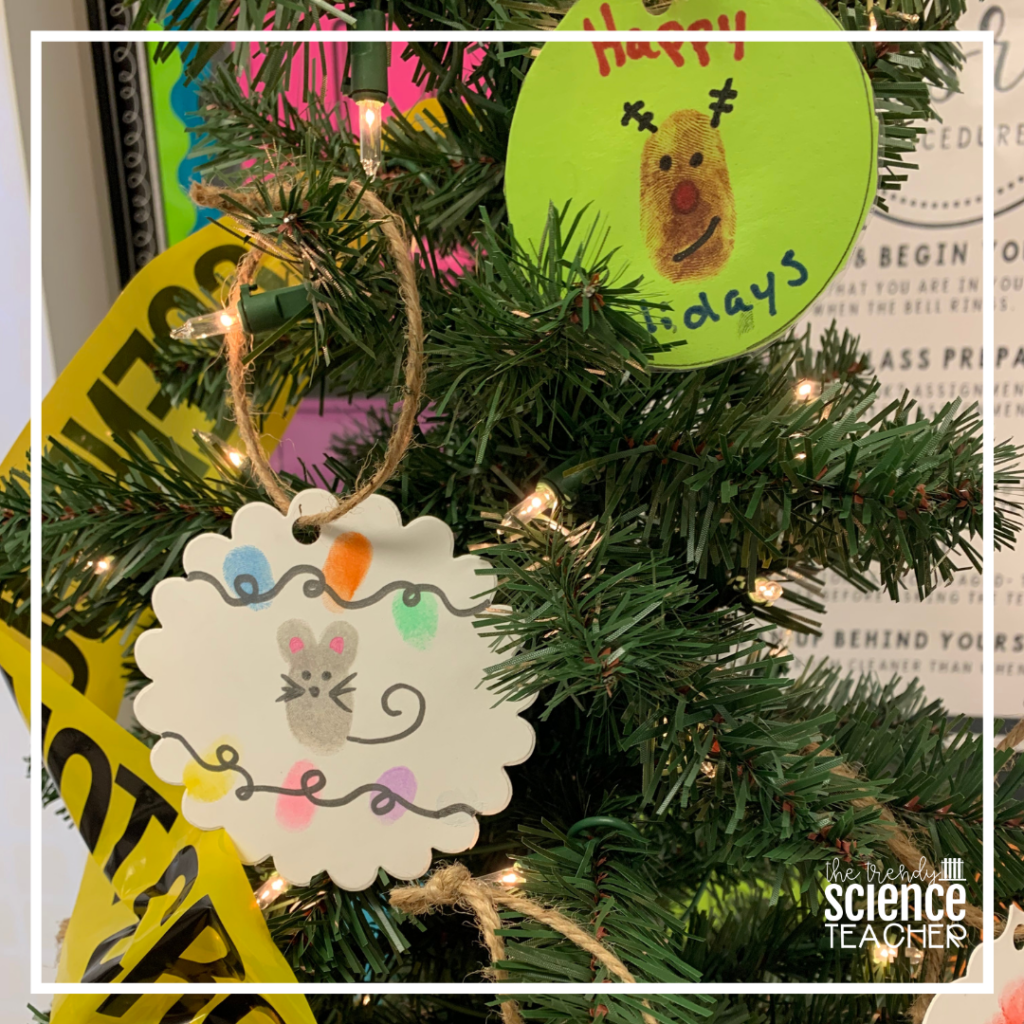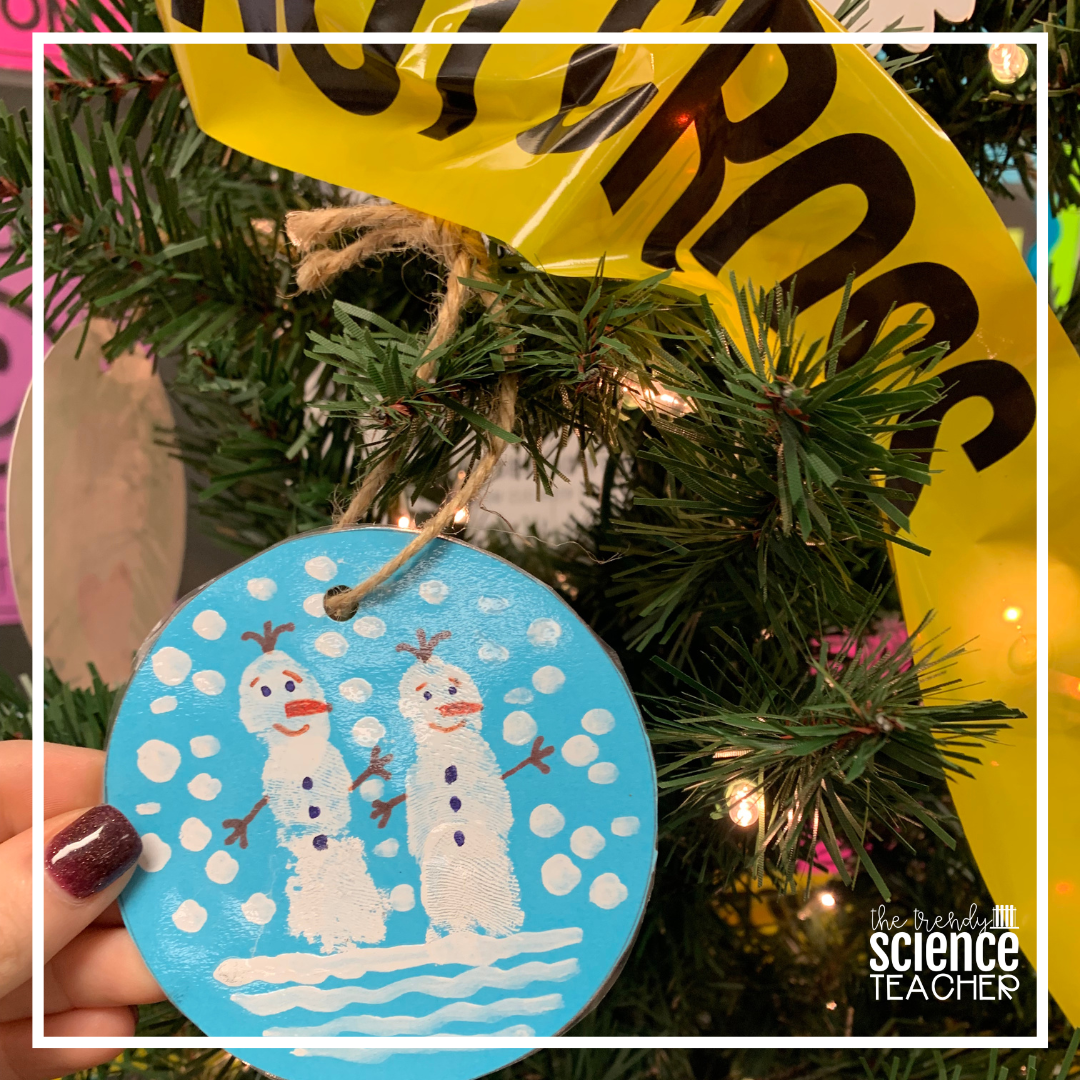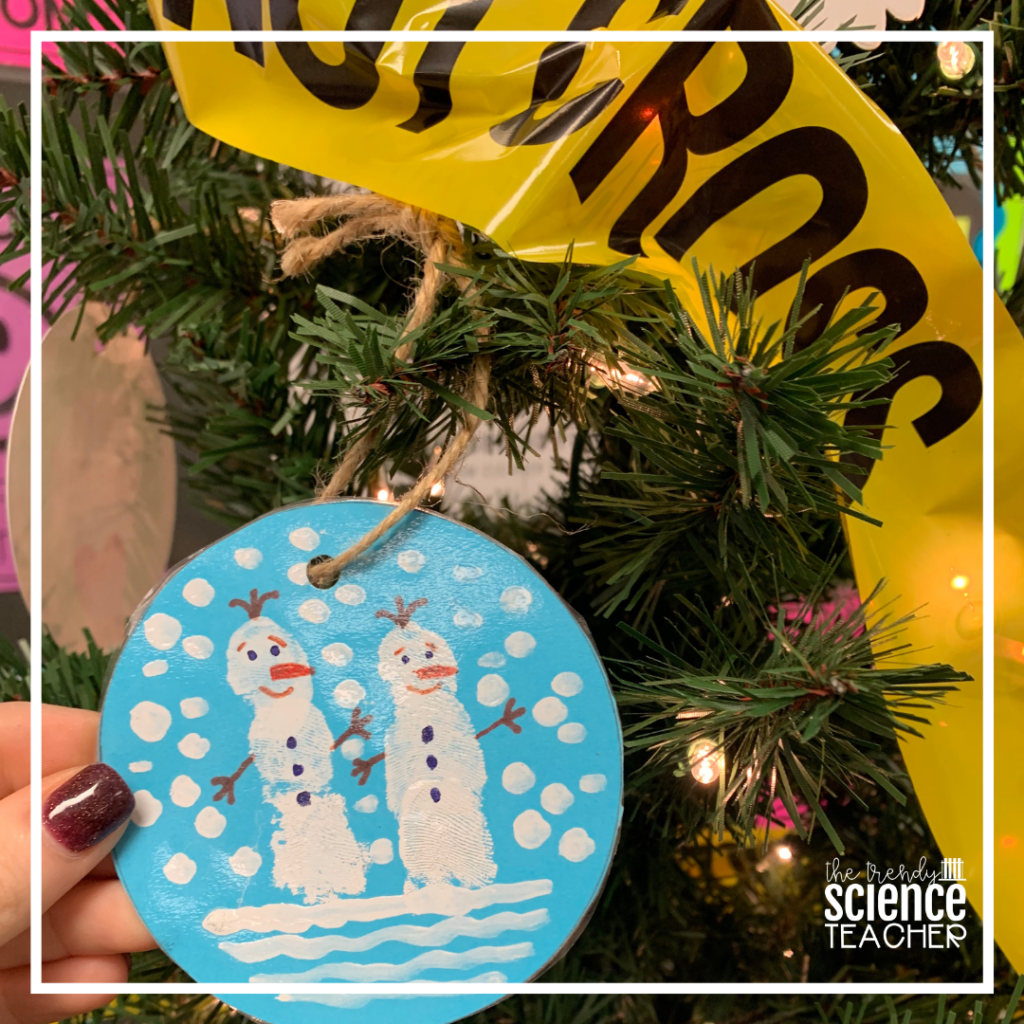 I purchased these fingerprint pads from Amazon a few years ago and I love them. They have lasted and work really well for projects such as this.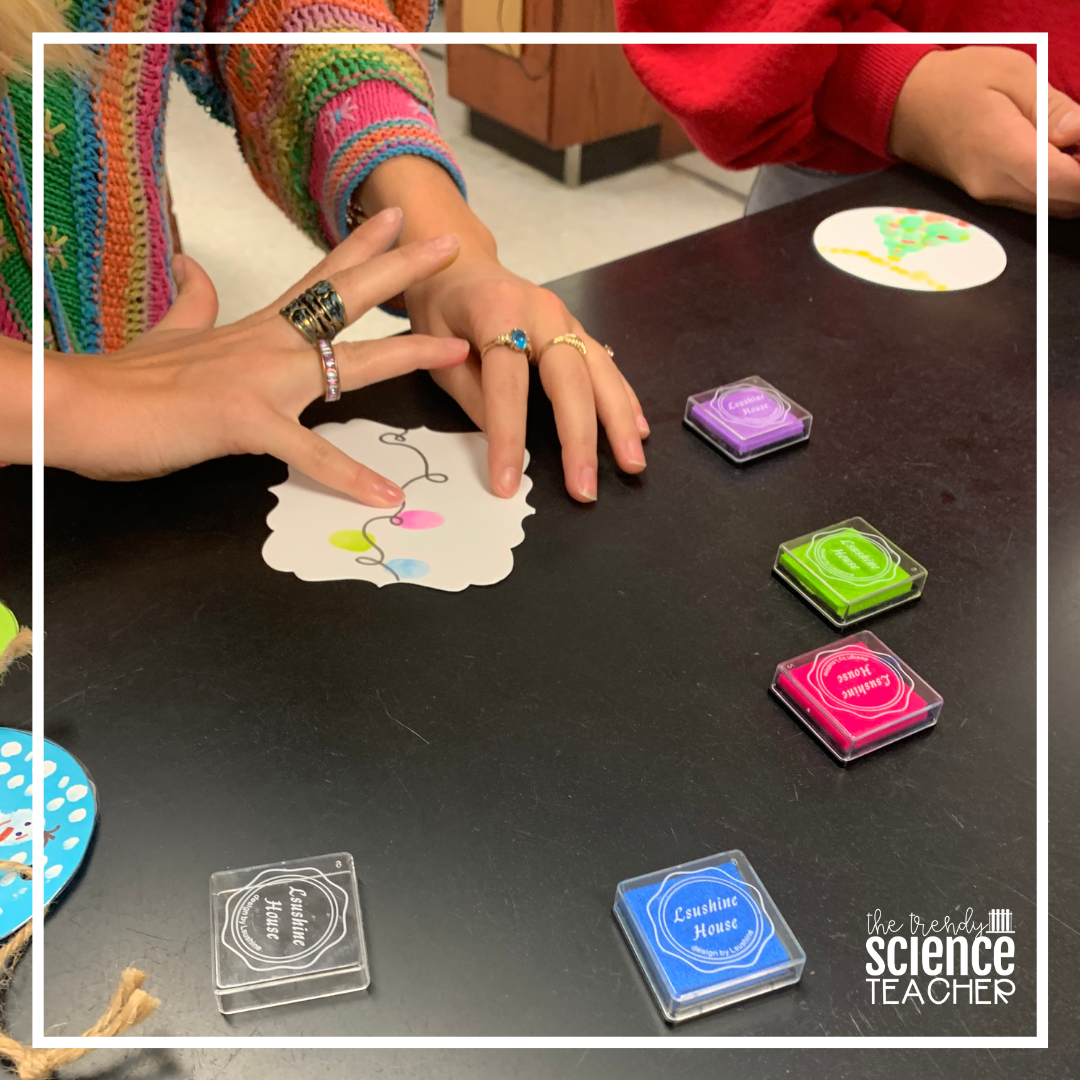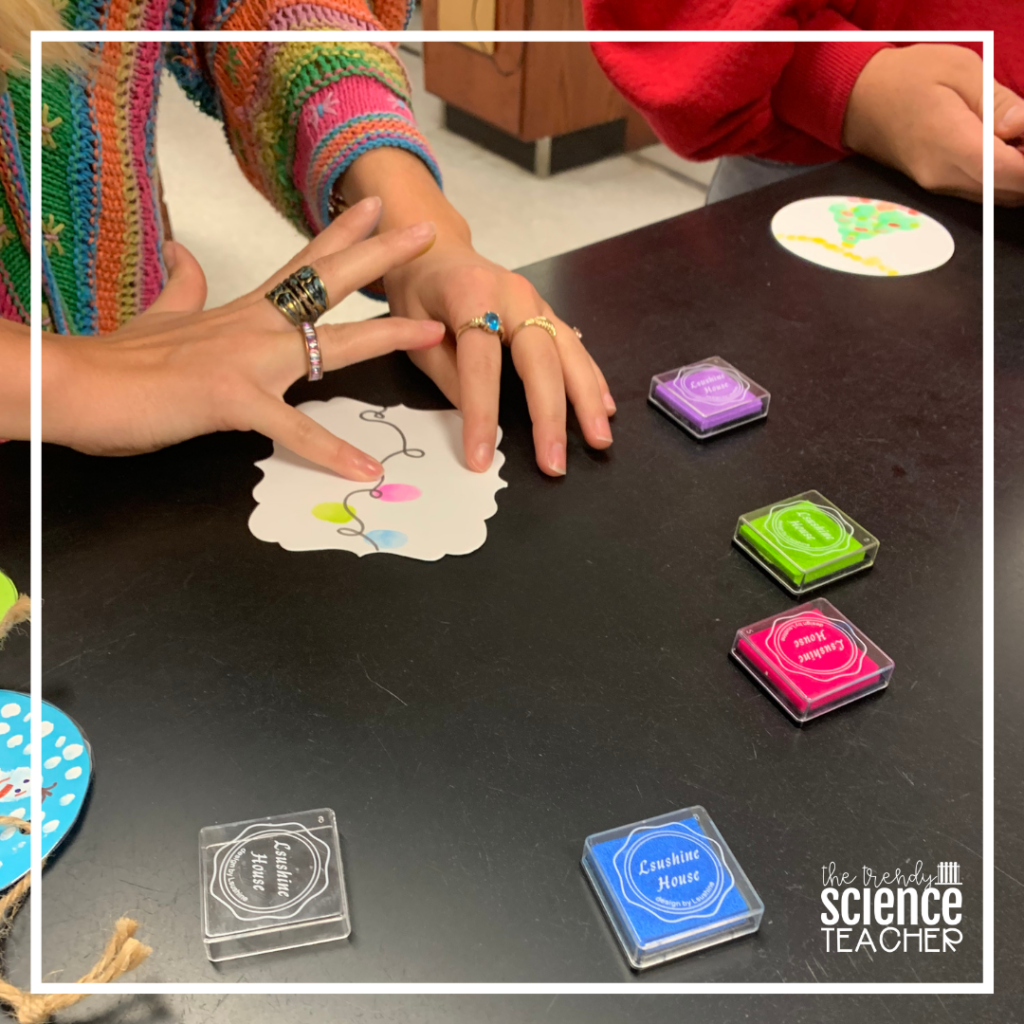 Another variation of this activity came from a few members of my Forensic Science Teacher Collaborative Facebook group. A few weeks ago, two teachers (Brittany Pendleton and Beth Maschmeier) shared their own unique fingerprint ornaments using a no-mess, glue fuming technique. I love how these turned out! To see how to conduct this easy, no mess, glue fuming activity click HERE.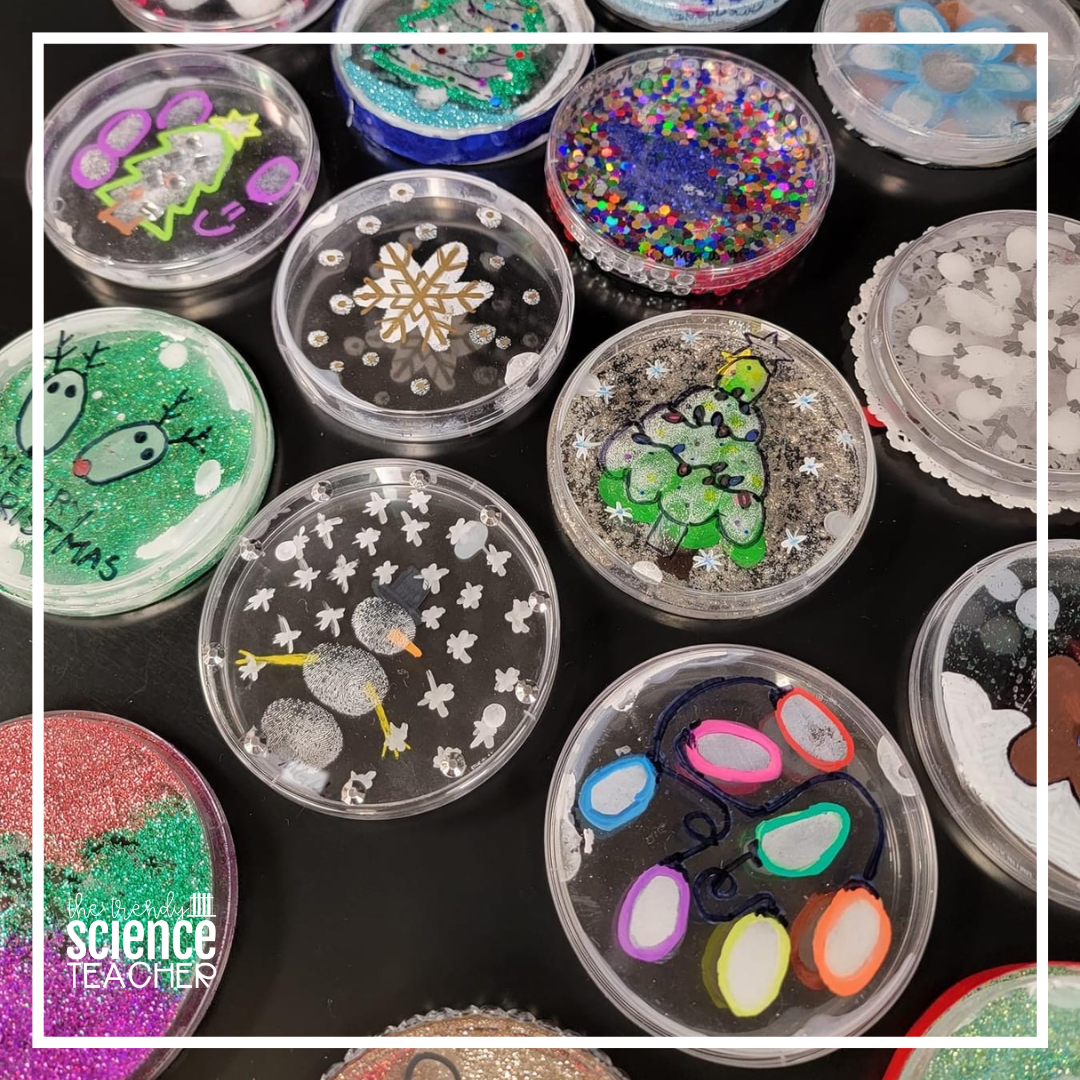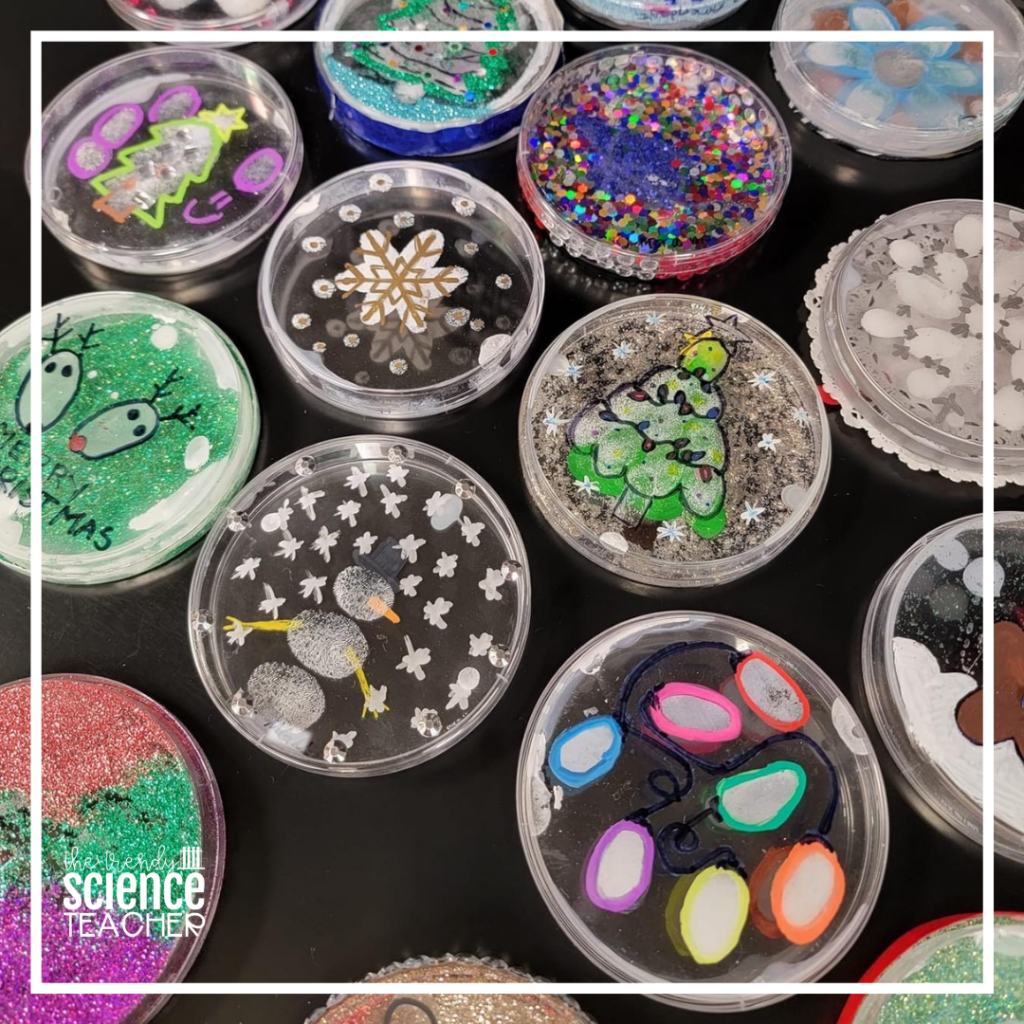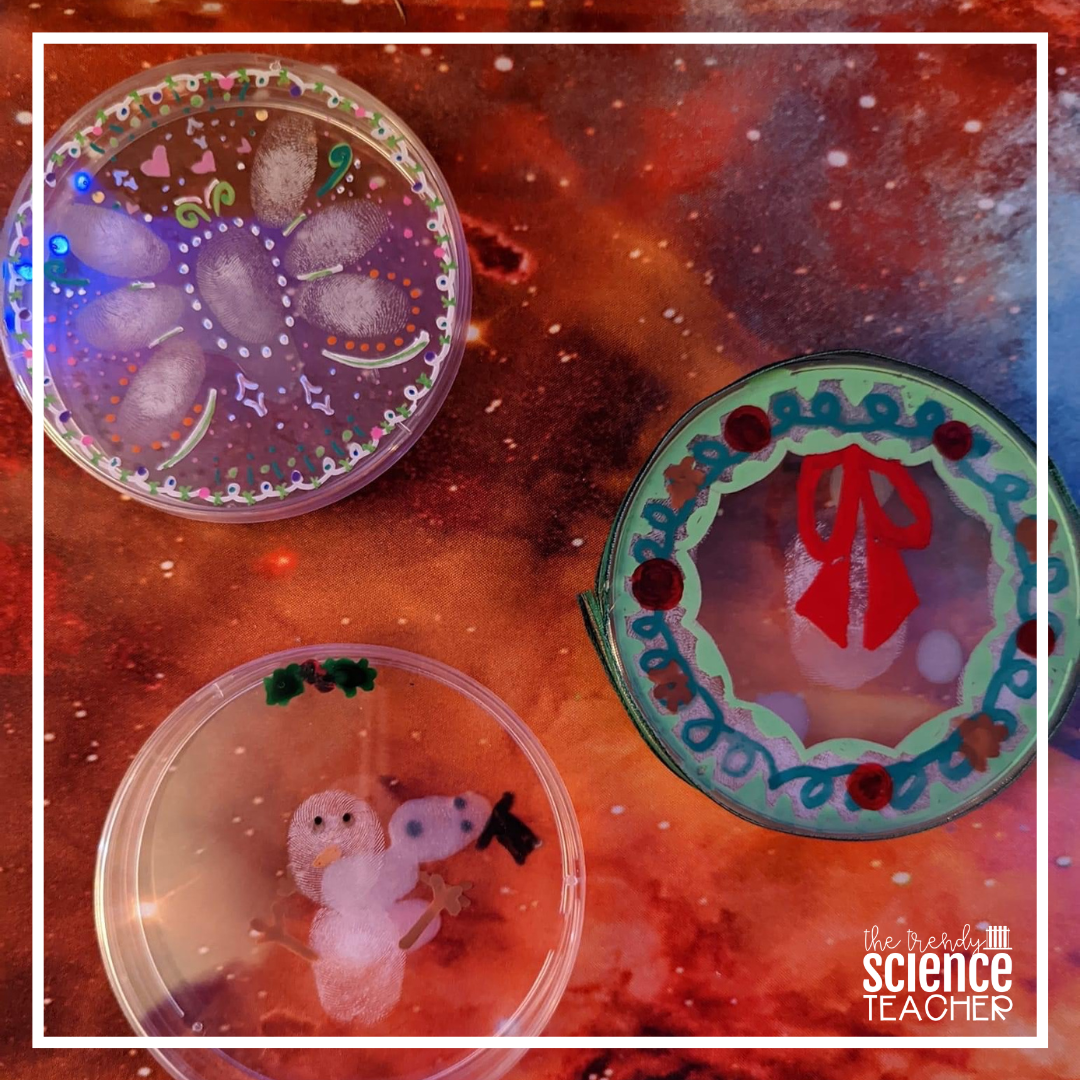 🎄Host a Mock Trial (for The Grinch)
Mr. Grinchy: Guilty or Innocent? is the perfect activity for the week leading up to winter break. I start this activity by having my students research the elements of criminal law and the criteria that constitutes a crime. Once students have this knowledge, I show an episode of Dr. Seuss' How the Grinch Stole Christmas. (I have a guided question document that I have the students answer as the movie plays.)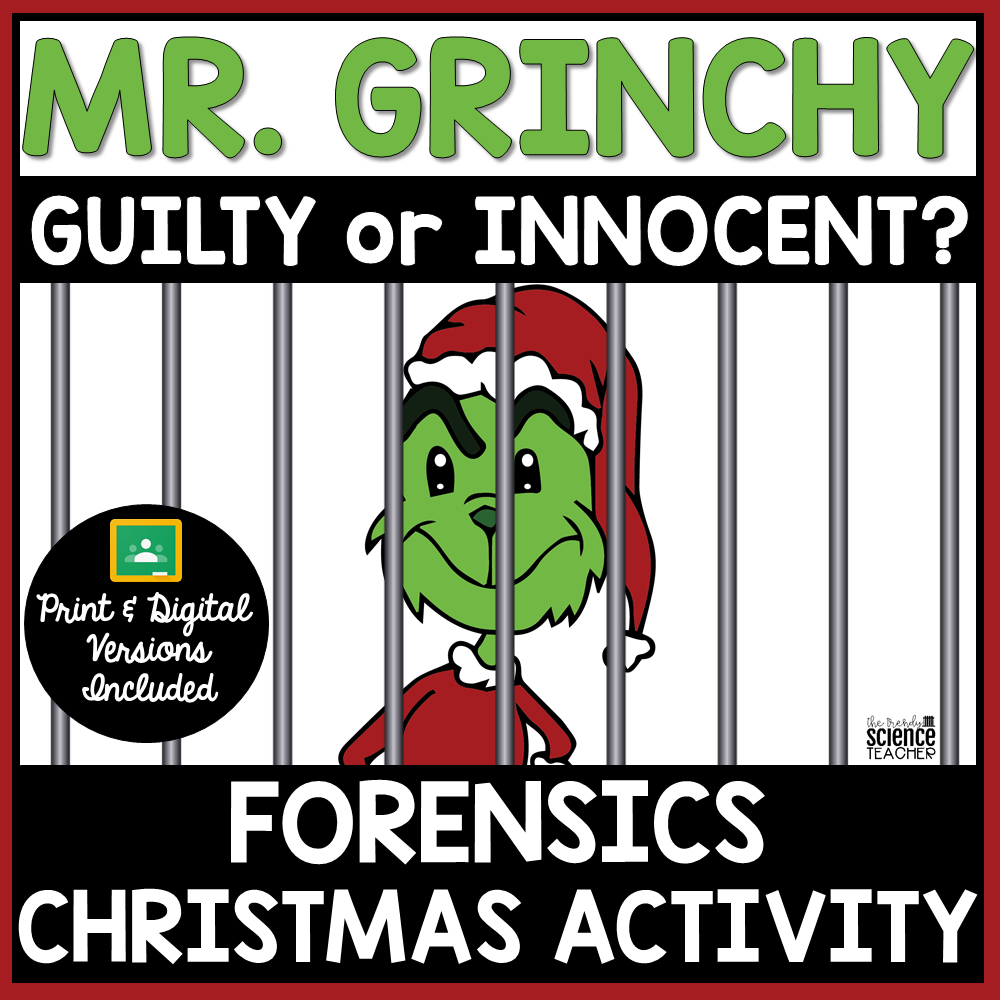 Following the movie, I divide the class (randomly) into the "defense" and "prosecution." I pick one student to act as "The Grinch" who is on trial for larceny and theft by deception. The defense and prosecution teams must create an argument and defend their stance. Of course, I serve as the judge and I call in other faculty members to serve as the jury. This activity is so much fun and is a great excuse to show a holiday movie leading up to Christmas break.
🎄Hot Chocolate Day
Hosting "hot chocolate day" in my forensics classes is one of my favorite holiday traditions. I serve up a batch of my famous Classroom Crockpot Hot Chocolate and set my Spotify playlist to cover my classroom in instrumental tunes.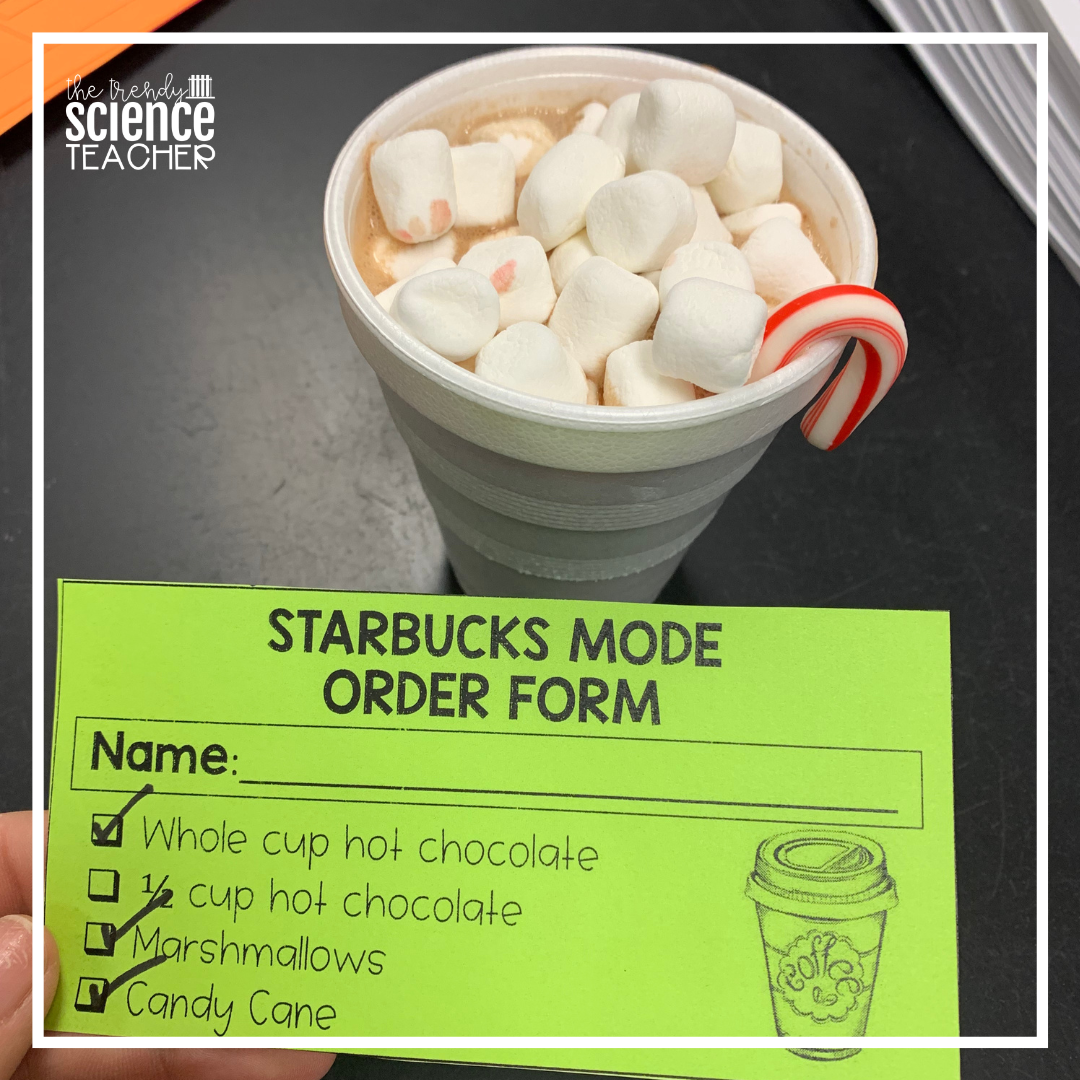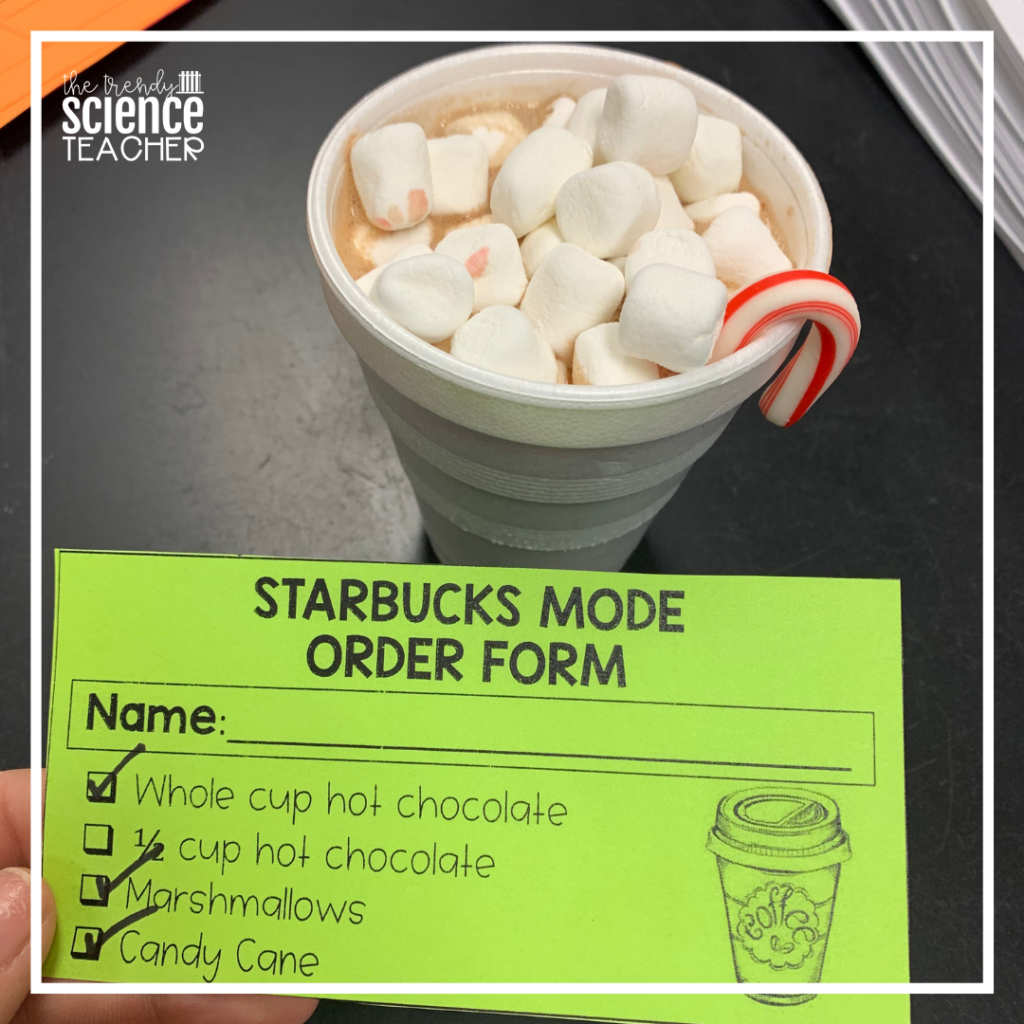 As the students come into class, I provide them with an "order form" where they select their hot chocolate preferences. As my students work on their FAMOUS FORENSICS HOLIDAY MYSTERY PICTURE, I serve them a cup of hot chocolate (to order).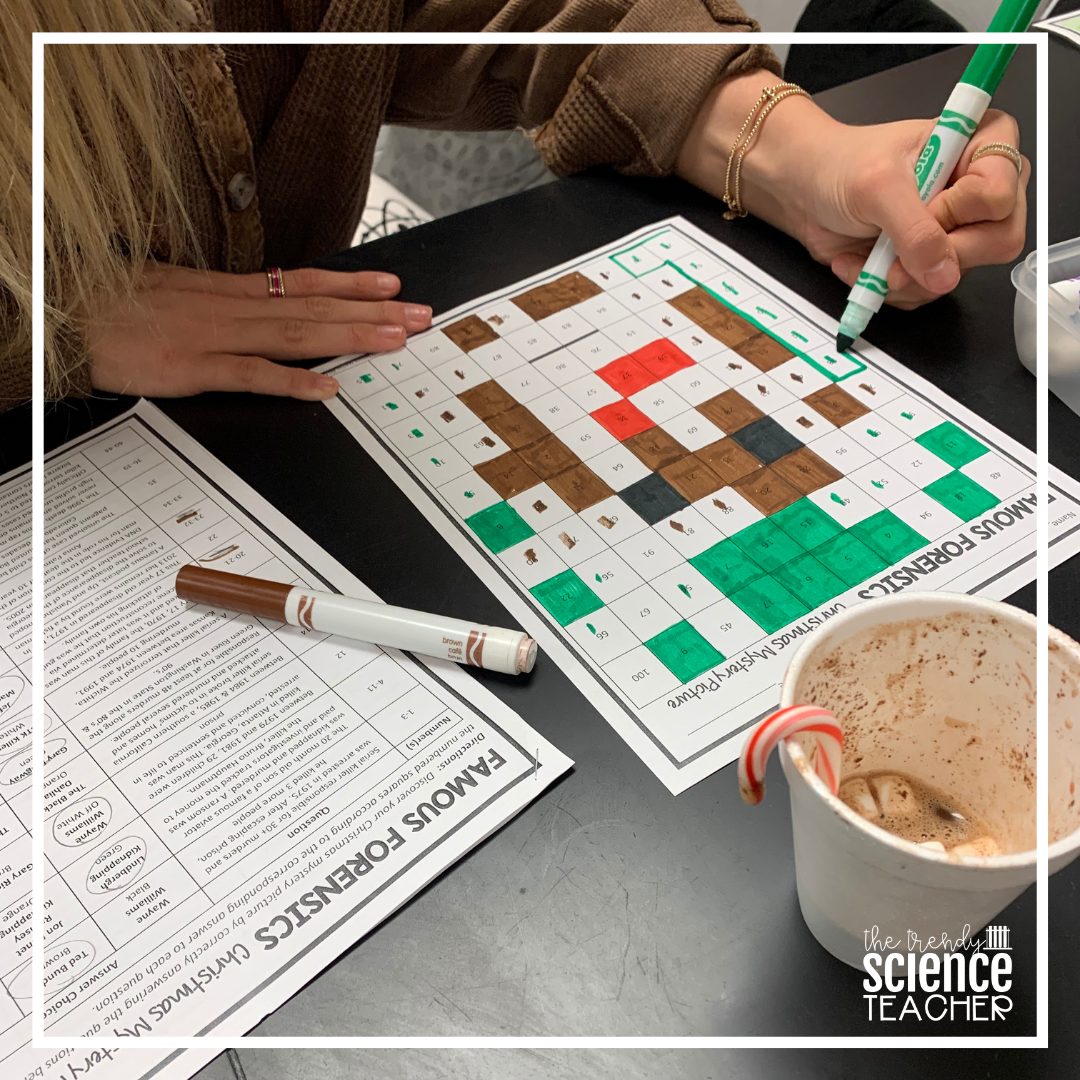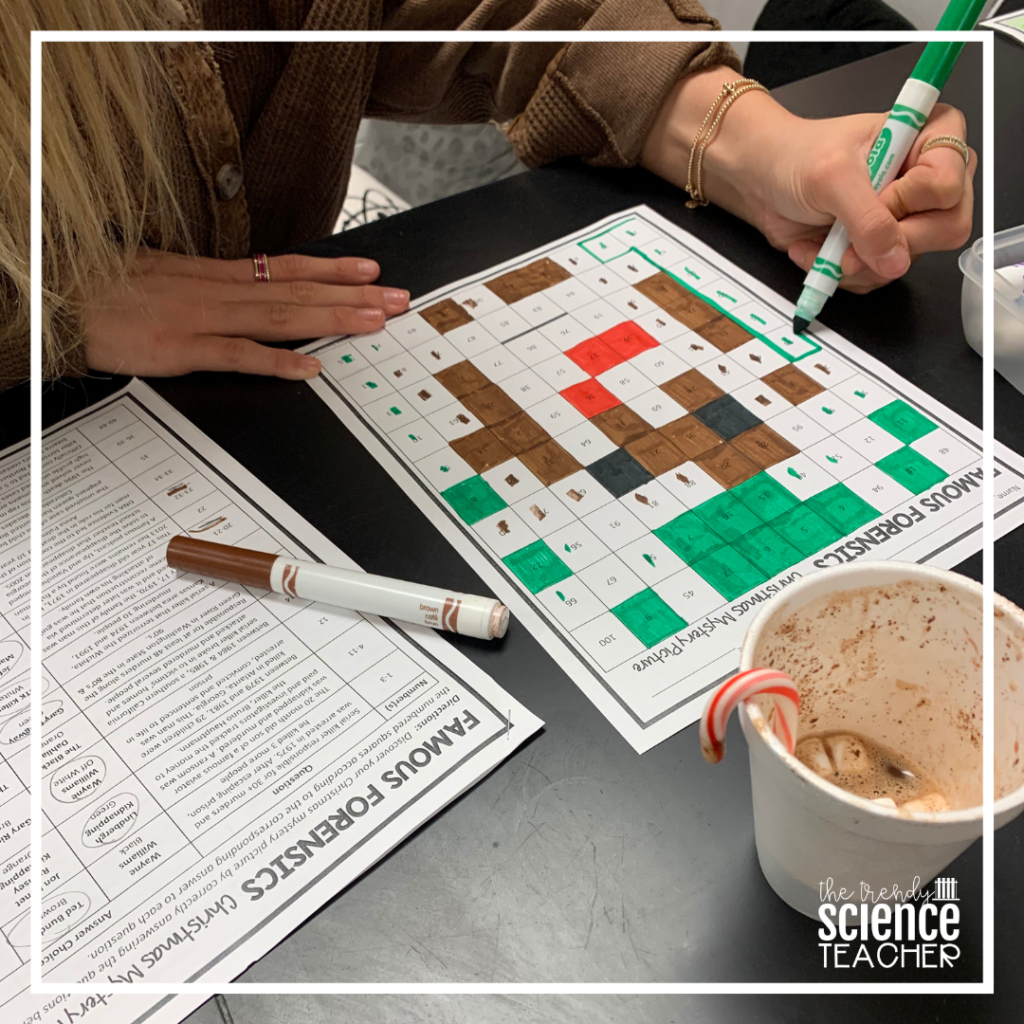 Soft Christmas music playing in the background provides the classroom with a touch of calm in a typically chaotic time of the year.
🎄Create Your Own Holiday Color-by-Number
My students love to color, especially during the holidays. Each year, I create a color-by-number review for the topic that we are covering. I like to use this day to serve my students hot chocolate. If you'd like to use my holiday color-by-code template to create your own review worksheet, click HERE!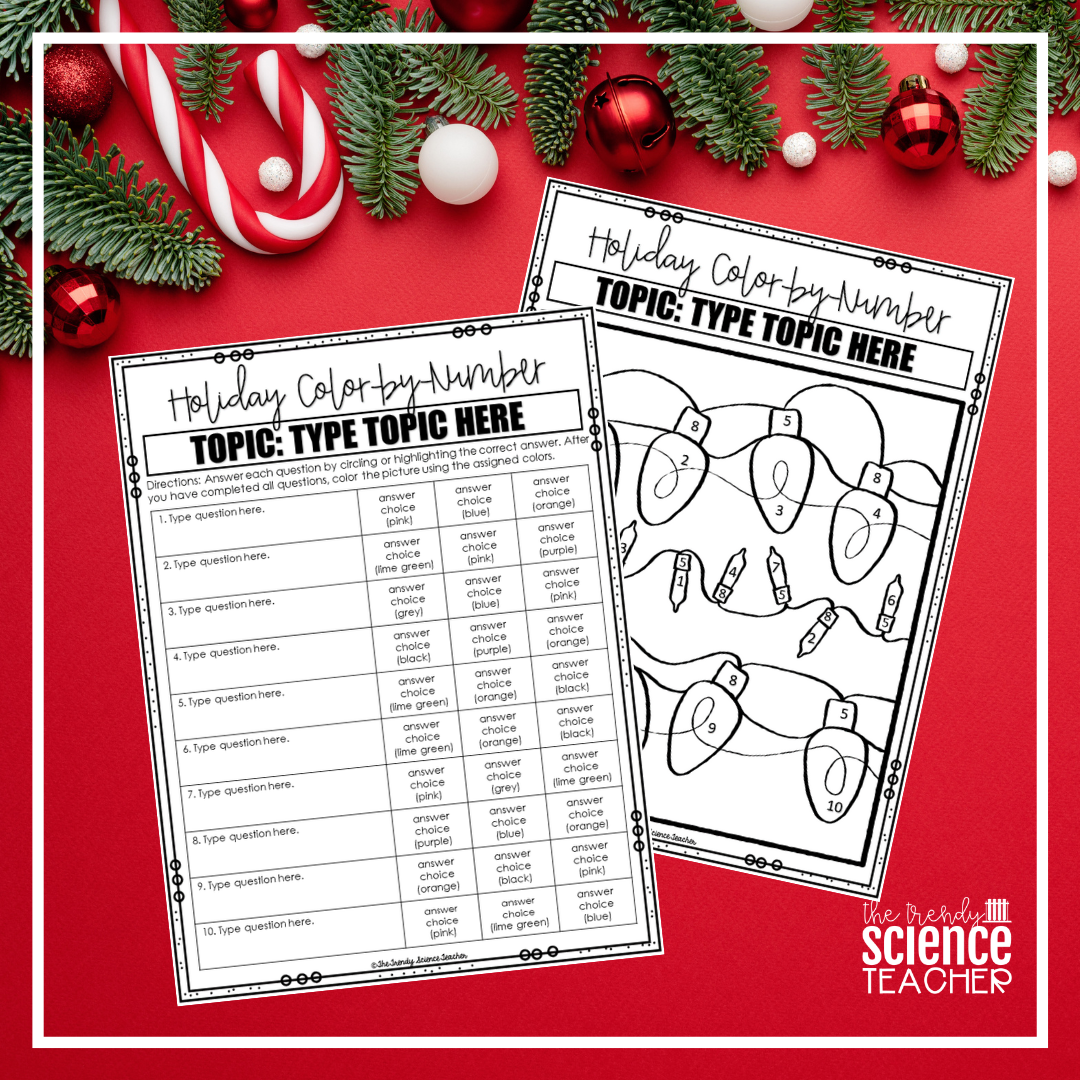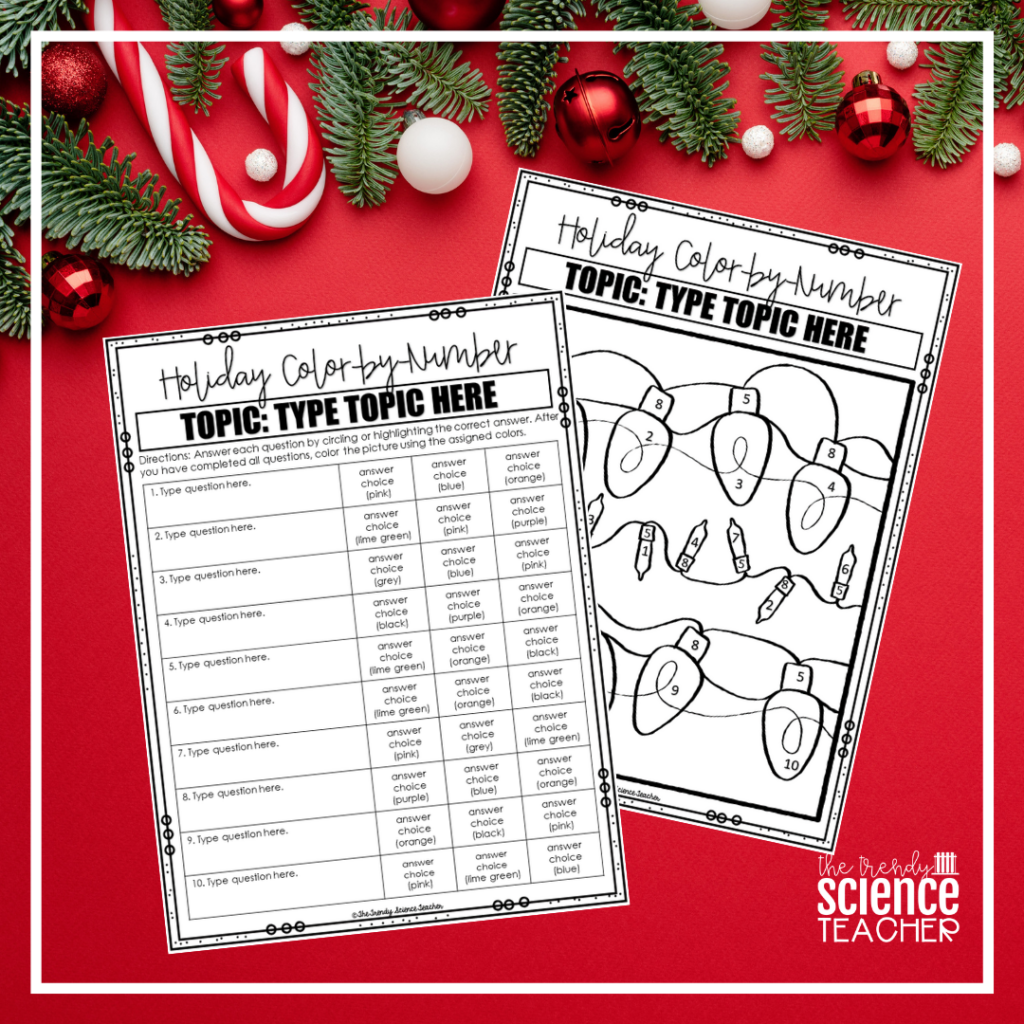 🎄GimKit or Blooket Review Game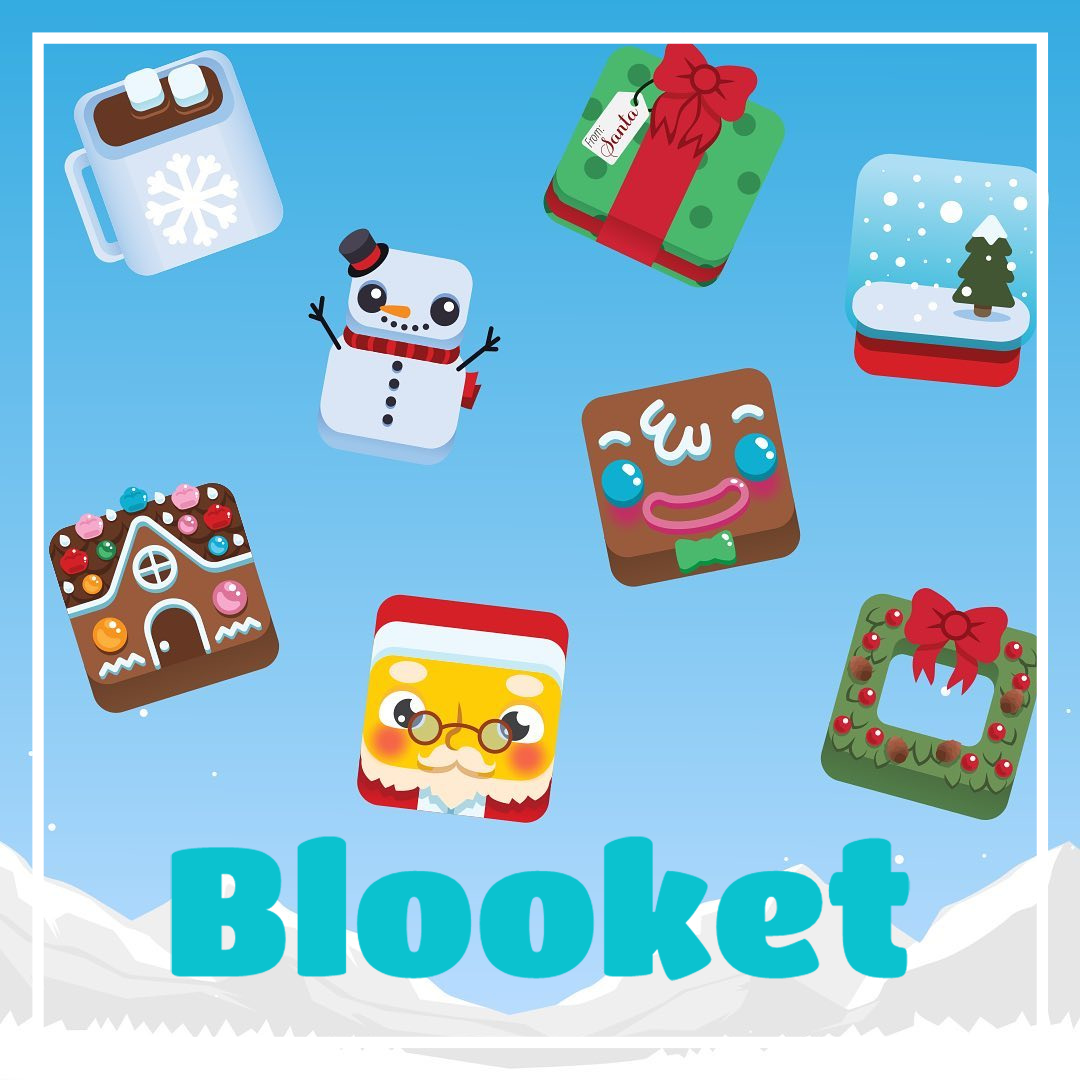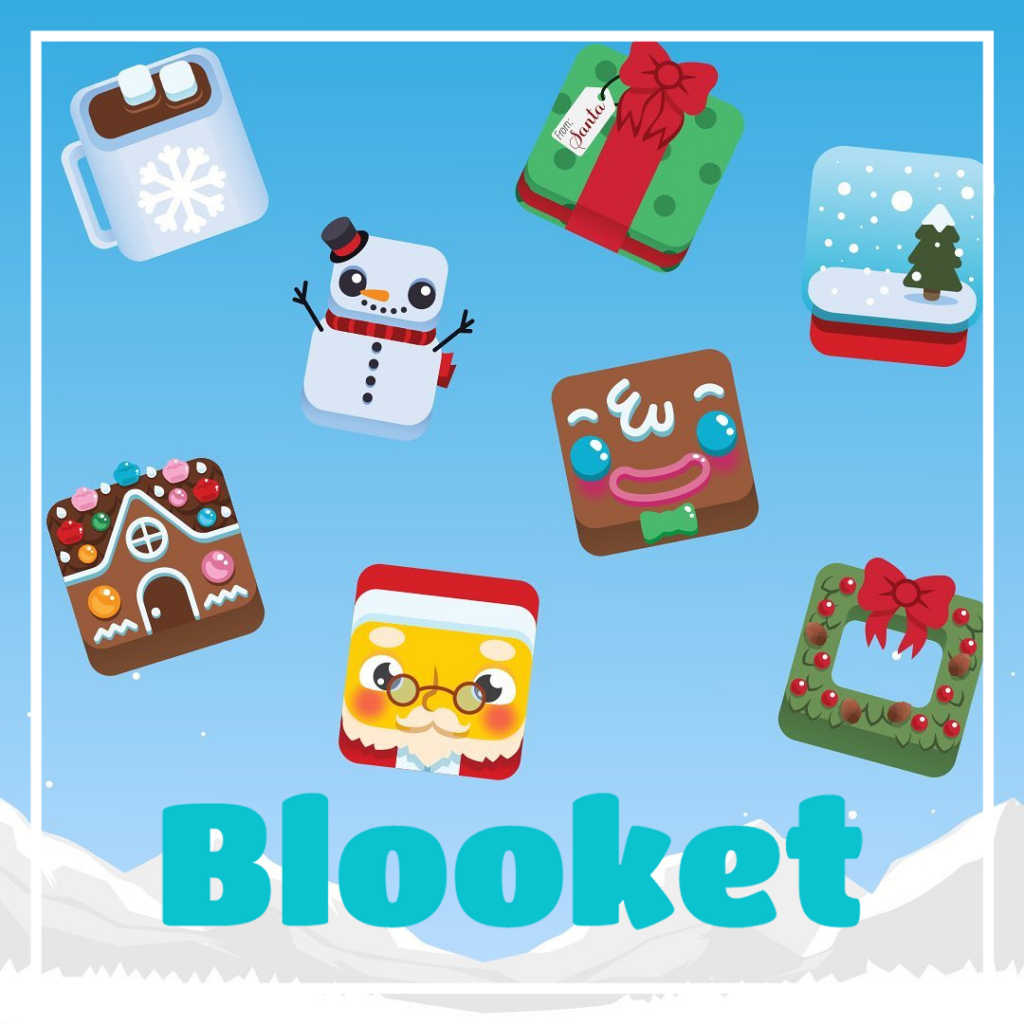 GimKit and Blooket are digital gaming platforms that offer holiday-themed review games. You can create your own review game or choose from thousands of pre-made games created by other teachers. It's a great way to add a festive twist without a lot of effort.
🎄Summarize a Forensics Topic to the Tune of a Christmas Song
Who doesn't love singing Christmas carols during the holiday season? I love to have my students summarize our current topic to the tune of their favorite Christmas song. It's also a lot of fun to have your students come up with these songs in groups and have each group perform the song.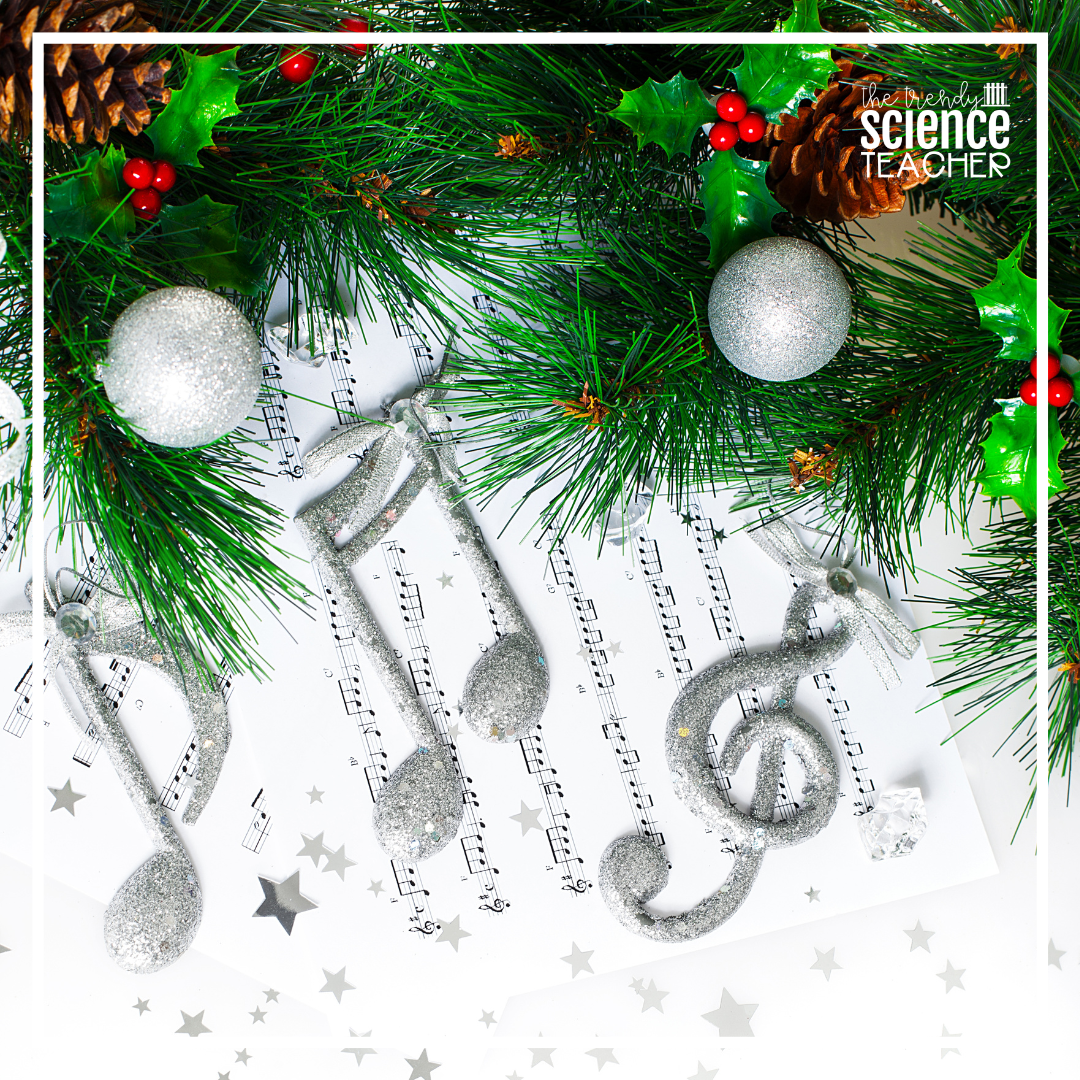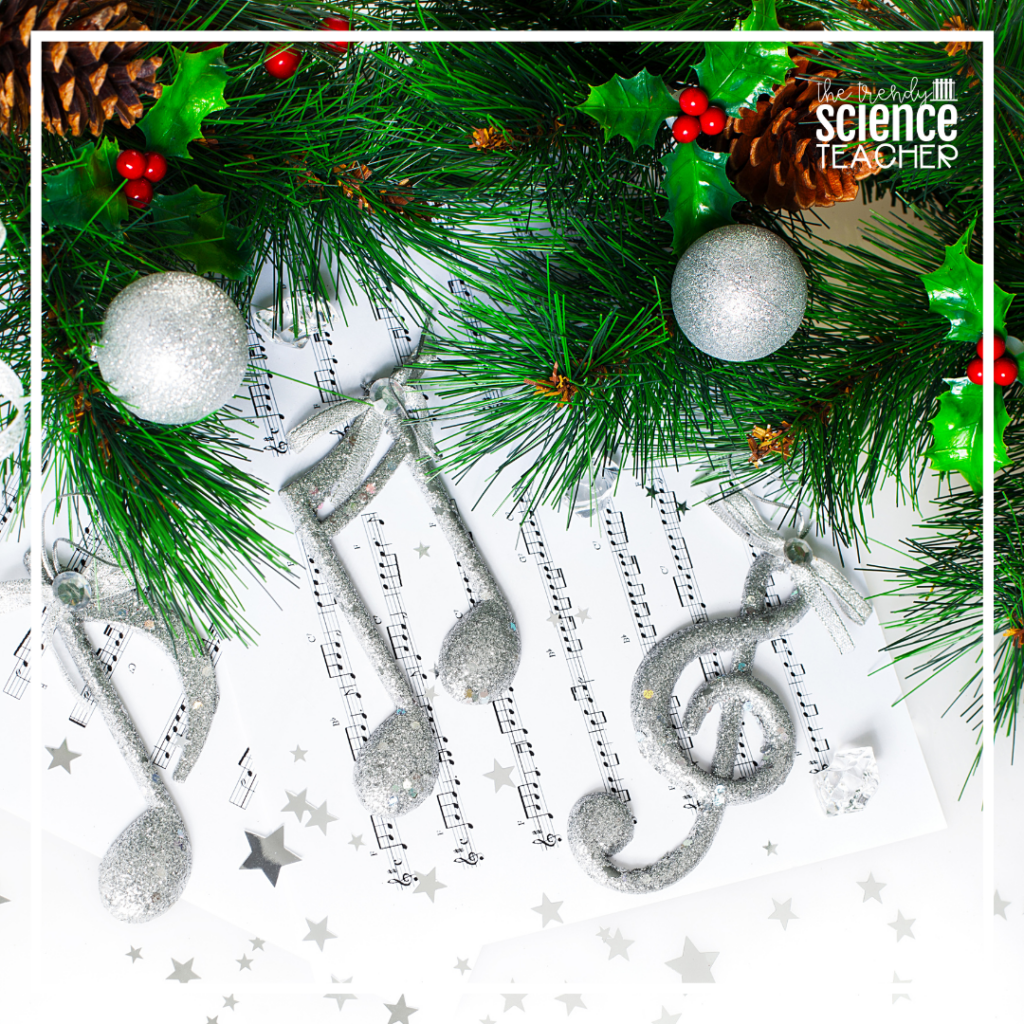 Well…there you have it…. 8 Holiday Activities to use in your Forensics Classroom. I hope that you are inspired to use one (or more) of these festive activities with your classes this holiday season.
Happy Holidays and Warmest Wishes!