What I dread MOST about going BACK TO SCHOOL is that my family survives on fast food for a good 10 months out of the year. Maybe I'm being a bit dramatic… we don't eat fast food EVERY night of the week, but with our busy schedule (football & soccer games, cheer practice, church, etc.), I find it really difficult to feed my family well-balanced meals! I am pretty health conscious, which is why it bothers me that I am able to serve my family healthy meals during the Summer, but am too busy/tired during the school year. CAN ANYONE OUT THERE RELATE????
My kids deserve better….YOUR kids deserve better! So…I have spent my last week of Summer preparing freezer meals to ensure that my kids get adequate nutrition during the busy school year, and I am provided with a saving grace on those nights where I am running in the door at 7 pm, frantically looking for something to feed my family. Here are 5 of my favorite PREPARE-AHEAD FREEZER MEAL IDEAS FOR BUSY TEACHERS:
Meal #1: Homemade Spaghetti
So while you might be tempted to dump a can of spaghetti sauce into a skillet with ground beef, let me encourage you to try this homemade spaghetti sauce from The Pioneer Woman! It's a family favorite and is extremely versatile, catering to those that are watching their waistline OR to those that seek incredible Italian flavor. This dish delivers both! Use the recipe from the link above, or create a healthier version by using a different ground meat (ground venison is our favorite and turkey comes in a close 2nd). I like to serve this spaghetti with a variety of different pastas, but my personal favorite is zucchini noodles (for my KETO peeps). I make a HUGE batch and freeze about 6-8 cups in a Gallon size Ziploc bag. On a busy week night, I just un-thaw, heat and serve. The entire meal is ready in less than 15 minutes.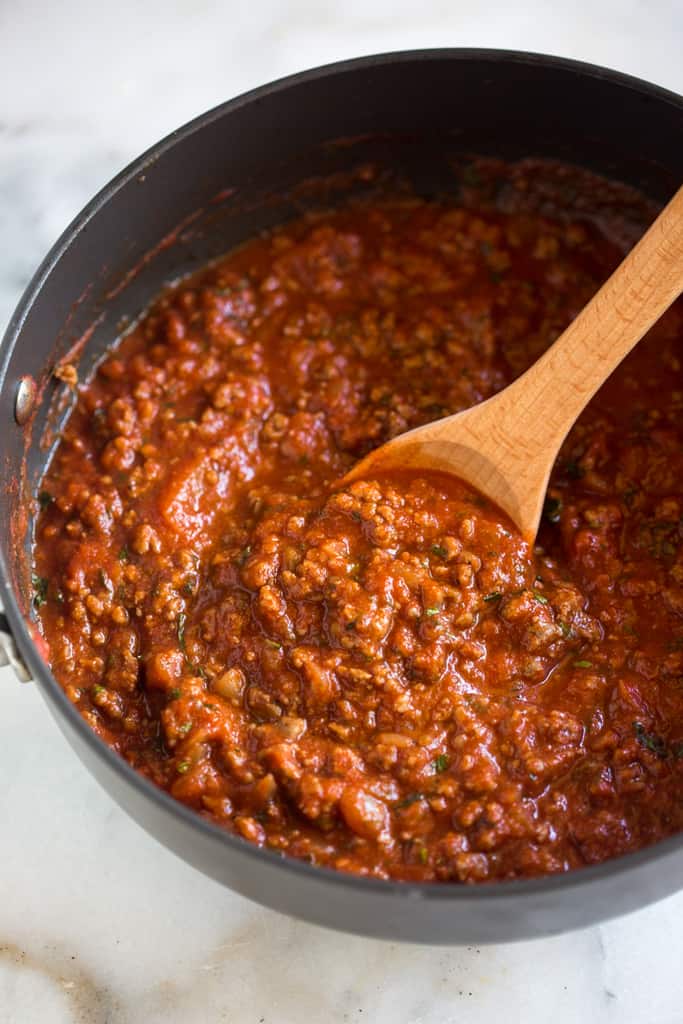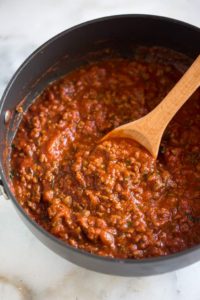 Meal #2: Sour Cream Noodle Bake
I snagged this recipe from The Pioneer Woman as well and I must say, "IT IS D-E-L-I-C-I-O-U-S!" Now…if you're thinking, "This isn't healthy," you'd be right! However, I do want my children to have well balanced and nutritious meals and this checks all of the boxes when served with a bag of steamed veggies. If the egg noodles are a little too "carb-y" for you, try substituting them for wheat noodles or skip the noodles. I have made this dish without the noodles and still managed to get HAPPY PLATES from my kiddos. This recipe is incredibly delicious and freezes well. Follow Ree Drummond's recipe HERE or create a variation of your liking! I quadruple this recipe and place in 4 disposable aluminum pans (minus the cheddar cheese) and place them in the freezer. Just take them out, defrost, add shredded cheese and bake at 350 degrees for 20 minutes.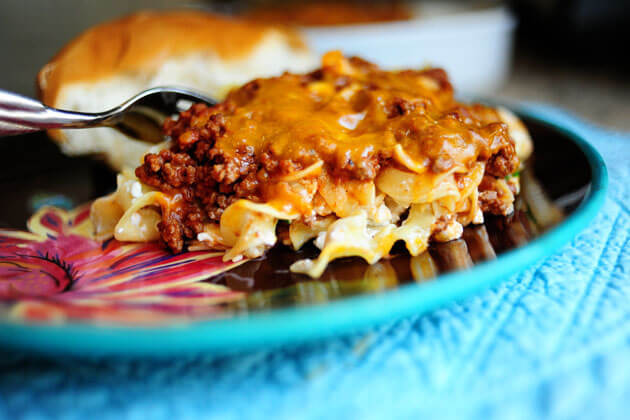 Meal #3: Easy Crock Pot Fiesta Chicken
I love this recipe! I mean I REALLY, REALLY LOVE this one-pot dinner. It packs a HUGE protein punch (if you're in to that sort of thing) and offers a substantial amount of fiber which is GREAT for growing kids! I quadruple this recipe, cook it in my crock pots (it takes 2 large crockpots), and place it in Ziploc bags for a freezer meal that's ready to go. My kids love this dish served over warm rice and I, of course, serve mine over cauliflower rice. I have also served it as a wrap in a flour tortilla (or a low carb tortilla). There's never any leftovers when I serve this meal, and when cooked ahead and frozen, it makes for the perfect busy weeknight heat and serve meal! Get Christy Denny's recipe from her blog, The Girl Who Ate Everything, by clicking HERE.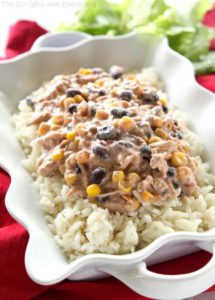 Meal #4: Grill Ahead-Chicken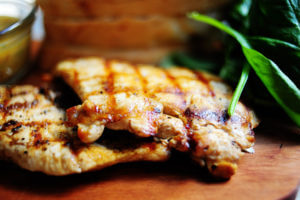 I love grilling up a whole bunch of marinated chicken breasts, then freezing them for a quick throw together meal. I purchase chicken breasts in bulk, marinate them in Italian dressing and toss them on the grill. Once they've cooled, I place them in Ziploc bags and place them in my freezer until I need them. Here are a few of my favorite uses for these frozen grilled chicken breasts:
* Slice them and put them on the bottom of a Mason jar salad– this is the perfect healthy lunch for busy teachers! There are so many options for these prepare-ahead salads. Check out some of my favorite Mason Jar salads from Monique of the Ambitious Kitchen.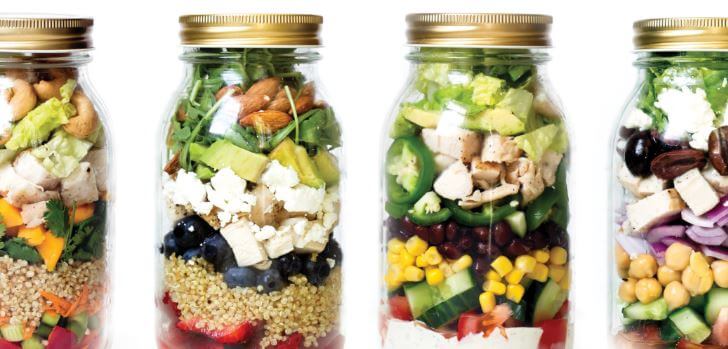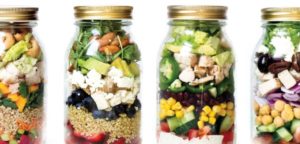 * Chop them, quickly saute in a little oil and taco seasoning, and put them on tacos or inside quesadillas.* Dice them and stir them into Tortilla Soup.
* Leave them whole and put them inside of your favorite wrap, butter roll, panini, bread, etc.
* Shred them and put them in chilis, soups, or pastas.
#5: On-the-Go Breakfast Wraps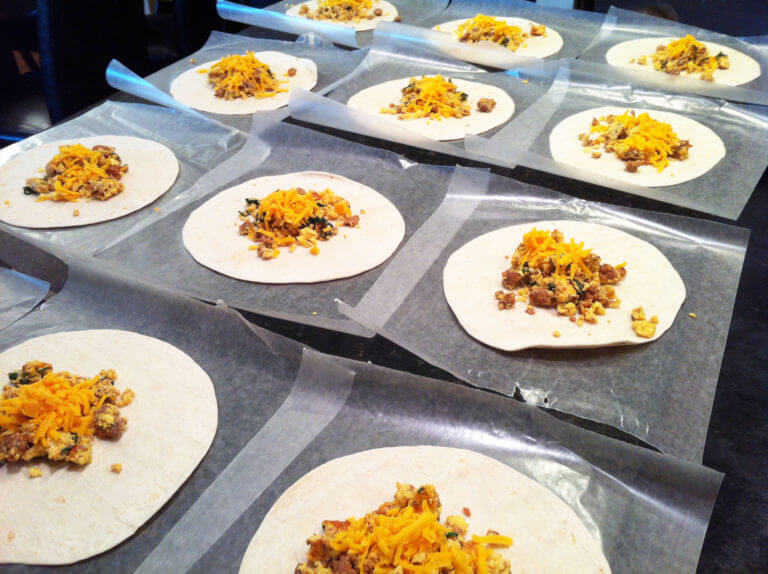 My kids are HUNGRY when they wake up and don't want to wait until they get to school to eat breakfast. I make these breakfast wraps in bulk, freeze them in Ziploc bags and grab what I need as we are running out the door on school mornings. I pop them in the microwave for 45 seconds and voila, a breakfast on the go! I love that I can make these as healthy (or unhealthy) as I want to and they are perfect for our busy mornings. Here are a few of my favorite ideas:
Low Carb: turkey sausage (browned), egg whites (cooked), swiss cheese rolled into a low carb spinach wrap.
Western: Scrambled eggs, sauteed mushrooms, onions, and green bell pepper rolled into a flour tortilla.
The Deluxe (my husband's favorite): Scrambled eggs, tater tots, crispy bacon, shredded cheddar cheese, sauteed onion and pepper served with salsa.
Simple & Easy (the kids' favorite): Scrambled eggs, a slice of pre-cooked microwavable bacon, shredded cheddar cheese (roll into a flour tortilla)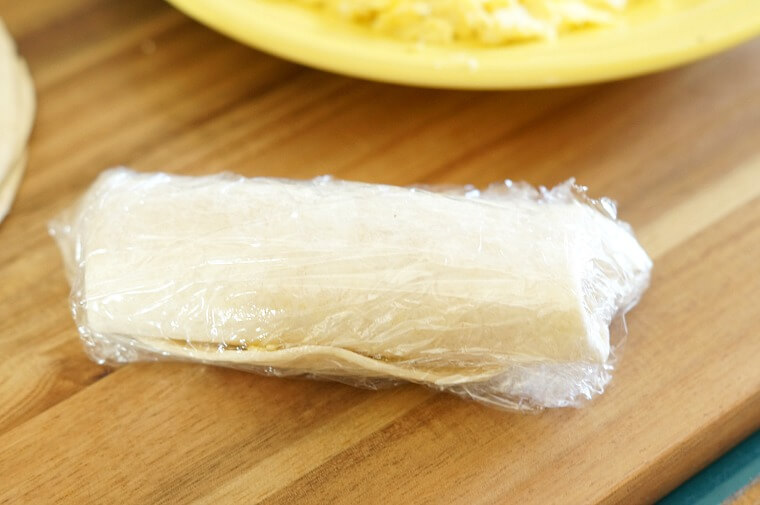 Simply place desired ingredients into a flour/spinach tortilla, roll tightly ensuring that the ends are tucked in, wrap in plastic wrap, place wraps into a Ziploc bag and store in the freezer for up to 6 months. When you need a quick and filling breakfast, heat in the microwave for 45 seconds and that's it!
Bonus: Make Ahead Monster Cookies
I know this post is all about healthy and well balanced meals for our families. However, I feel the need to share with you something that I did last year that was a HUGE time-saver for me during the school year. I always dread when I check my kids' book bags and see a note requesting that I send cookies/cupcakes for a class party. I'm not against class parties, but I am against whipping up a batch of cookies at midnight! These make-ahead monster cookies are SUCH A TIME SAVER! I made 4 large batches, froze the cookies individually and placed them in batches of 25 into a large Ziploc bag. Now, when my kids have a party or I have to take a snack for Bible study, I simply take out what I need, bake them and within 15 minutes, I have delicious cookies that saved me a couple of hours (and a few gray hairs)!
I have tested many "monster cookie" recipes and have found THESE from Sally's Baking Addiction to be the BEST! They are crispy on the outside and soft & gooey on the inside AND….are my guilty pleasure when I crave something sweet (any one else out there eat cookie dough?).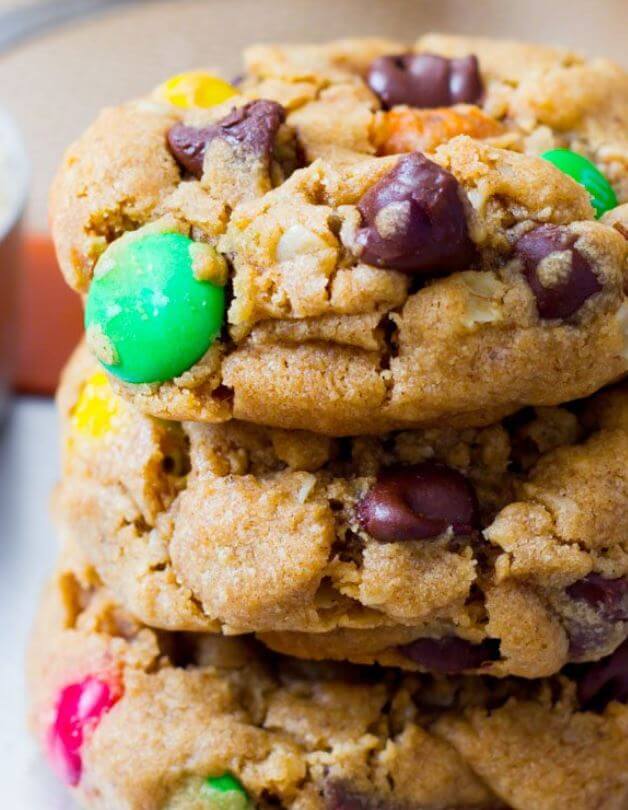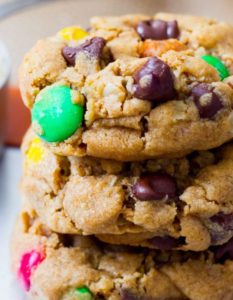 I hope these 5 Healthy Prepare-Ahead Meals prove to be a time-saver for you an your family this school year! Until next time….keep rockin' that TEACHER LIFE!